Sour Dog Highlights
Type: Sativa Dominant
Tasting Notes: Sour, Diesel, Fruit
Effects: Happy, Social, Creative
Common Uses: Anti-inflammatory.
Introduction: Sour Dog CBD Review
I hope you like your strain sour. This pungent hemp strain is a cross between the top-selling Sour Space Candy and the perennially popular cannabis strain Chem Dawg. The result is a sativa dominant hybrid, anytime strain with an aroma that is packed with both fruit and diesel.
Flavor Profile, Aroma, & Appearance of Sour Dog CBD Strain
Sometimes spelled as 'Sour Dawg CBD' this hemp flower strain has dark, forest green, medium-bodied buds with extra-thick orange hairs and crystal trichomes. Both of this strain's parent's aromas are on the funkier side, and this strain does not disappoint the family legacy; sour dog is not subtle and you can definitely smell it coming around the corner. The taste remains true to its smell, providing a mouth-puckering tart flavor nested within deeper notes of an earthy diesel.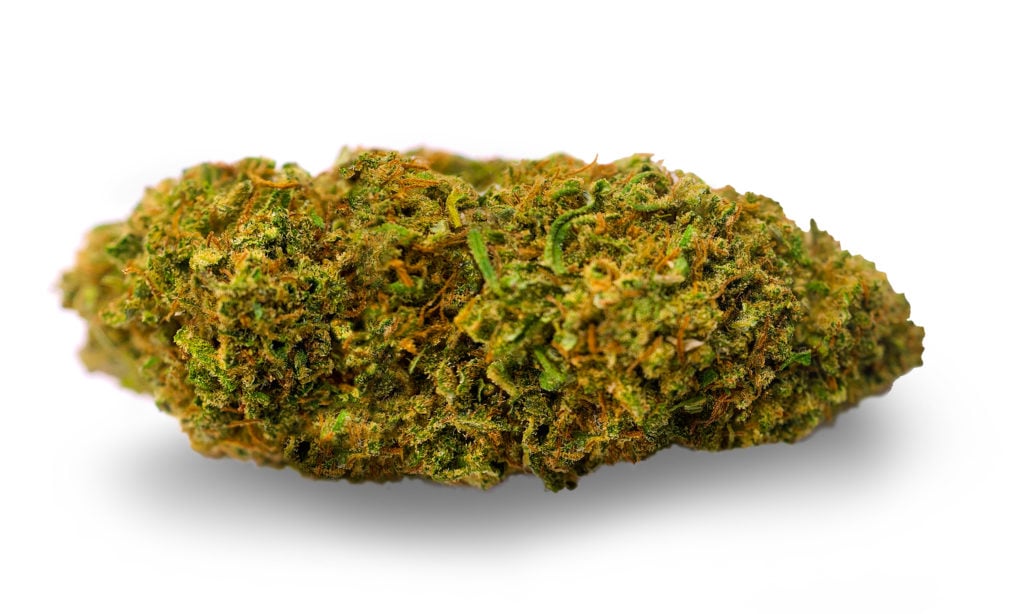 Terpenes & Cannabinoids in Sour Dog Strain
The Sour Dog hemp strain is one of the highest Cannaflower strains when it comes to its CBD level. This dog tests at 17.3% CBD. However, this hemp strain does not have accompanying high THC levels. Those with sensitivity to TCH should be able to smoke this strain with peace of mind.
Caryophyllene is the most predominant terpene in this strain, followed by myrcene and then humelene. Carrophyllene is unique amongst terpenes in that it has been shown to act like a cannabinoid and activate the user's endocannabinoid system. This may provide some additional benefit from any entourage effect provided by the strain. The caryophyllene terpene is what provides the deisel, funky fragrance to this and many other popular, sour diesel strains.
Sour Dog Effects
This hemp flower strain offers its' user's an uplifting, easeful experience at anytime; day or night. It's not going to give anyone couch lock, the way a strain like OG Kush will, nor will it keep you energized past the point where you'd like to like to calm down and relax, the way a more powerful sativa strain like Elektra might. Users report feelings of happiness, euphoria, and focused, creative energy. Sour Dog is said to be a fantastic social strain as well.
Take Sour Dog Home Today!
Click on the following link to purchase Cannaflower's Sour Dog CBD Strain.
Click on the following link to review Cannaflower's Certificate of Analysis for Sour Dog.
Similar CBD Hemp Flower Strains
Sour Space Candy provides Sour Dog with half of its genetic profile. If you enjoy the fruity and tangy flavors of this strain, then its predecessor will provide you with plenty more for that same aroma and taste!
Hawaiian Haze is Cannaflower's other 'anytime' strain; classified as perfect for use during either day or night.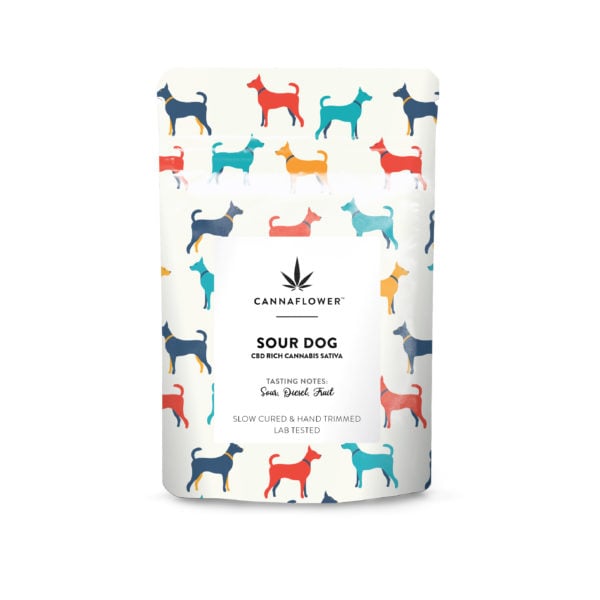 Pick up this uplifting anytime strain is a delightfully sour twist on a human's best friend.