Lifter Review
The Lifter CBD Hemp flower strain took 1st place in the 2020 Golden Grow Awards. Lifter is one of the most commonly cultivated and sold strains in the hemp flower industry. It was one of the earliest genetics with high CBD. As you can expect from the name, lifter acts as a great 'pick me up' and provides what its fans describe as an 'enlivened calm' that won't lower your energy level. The Lifter strain has remained consistently Cannaflower™'s top-selling CBD flower daytime strain. High amounts of the terpene limonene gives Lifter notes of citrus, earth and clover.
Origins & History
Bred by Oregon CBD, Lifter is a CBD hemp cultivar created by crossing Suver Haze and Early Resin Bud. The name may derive from the popular 'Mortgage Lifter' Tomato crop, or it may simply have been given the name because of the uplift people experience from it. The CBD hemp cultivar Lifter was first created by crossing Suver Haze with Early Resin Bud.
Flavor Profile & Appearance
This particular hemp flower produces upright growth patterns during its vegetative phase and can grow quite large; producing the highest recorded plant size among the strains produced by Oregon CBD. Oregon CBD came to refer to Lifter hemp buds as 'goldilocks' buds, for their large, long, and hair-like qualities. Soft brown undertones can be seen under the plant's oily green buds. High trichomes can sometimes give Lifter a frosted appearance as well.
The most common adjective used to describe both the taste and aroma of Lifter is 'funky.' The combination of earthiness and lemony citrus notes makes the nose on Lifter a fan favorite. Some users even report slight aroma of cheese – which would explain the funkiness.
Terpenes & Cannabinoids
Terpenes are botanical compounds responsible for the unique flavor and aromatic profiles of CBD Hemp flower. Together with cannabinoids, terpenes also may play a role in defining the distinct therapeutic properties displayed in each strain.
The Lifter CBD Hemp Flower Strain is perhaps Cannaflower™'s Strongest Hemp Flower in that it has some of the highest CBD content of any Cannaflower™ strain at 19.5% CBDa. Our certificate of Analysis provides a full Lifter Cannabinoid breakdown.
Limonene, Linalool, and Humelene are some of the major Terpenes that are responsible for Lifter's unique properties. Limonene gives Lifter its strong citrus aroma. Linalool is primarily found in indicas, and even there few strains carry it in particularly high concentrations. Linalool contributes a spicy taste to this strain, and some research suggests that linalool helps enhance the anti-inflammatory properties of CBD and may help to soothe symptoms of certain auto-immune disorders.
Humelene has been shown by some studies to be an effective anti-inflammatory as well. In addition, Humelene has been cited as an appetite suppressant. Humelene contributes the earthy, funky aroma that everyone has come to associate with the Lifter CBD strain.
View Lifter Certificate of Analysis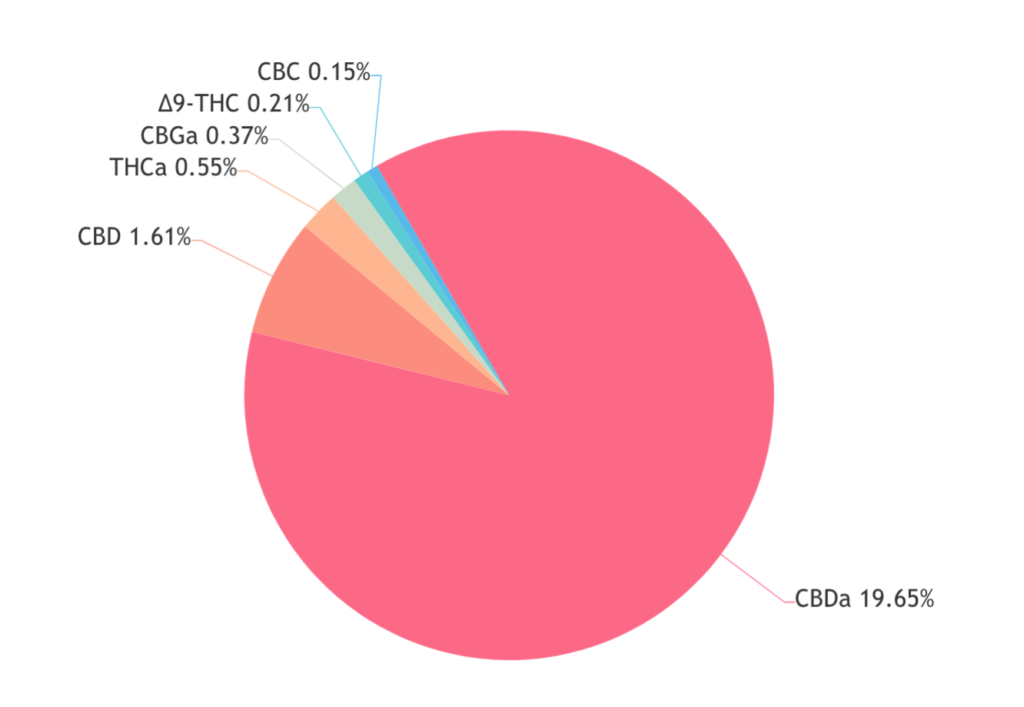 Lifter Effects
Users report a renewed sense of calm, focused energy after using lifter. These qualities make Lifter the perfect daytime strain that won't interfere with your productivity. When you have things you need to accomplish, but you feel the need to relieve some mental and physical stress in a way that won't get in the way of your goals for the day, Lifter is your go-to hemp flower.
Similar Strains: Sour Space Candy
Lifter is a perfect choice for the next time you need a little creative lift without losing the spring in your step.