If you dream of sweet, sativa hybrids, then Blue Dream is a strain worth seeking out. Originating in California, the Blue Dream strain has been tantalizing tokers for decades with its fruity aromatics. Hybrid fans continue to praise Blue Dream's mixed effects that energize without inducing intense lightheadedness. While it may sound like a fantasy, Blue Dream is very real…and very potent!
Blue Dream Strain Summary
• Supposedly created in Santa Cruz, California, by DJ Short.
• A mix of the classic strains Blueberry and Haze.
• 60/40 percent sativa-to-indica ratio.
• Average THC content of 18 – 24 percent.
• Average CBD content of ~ 2 percent.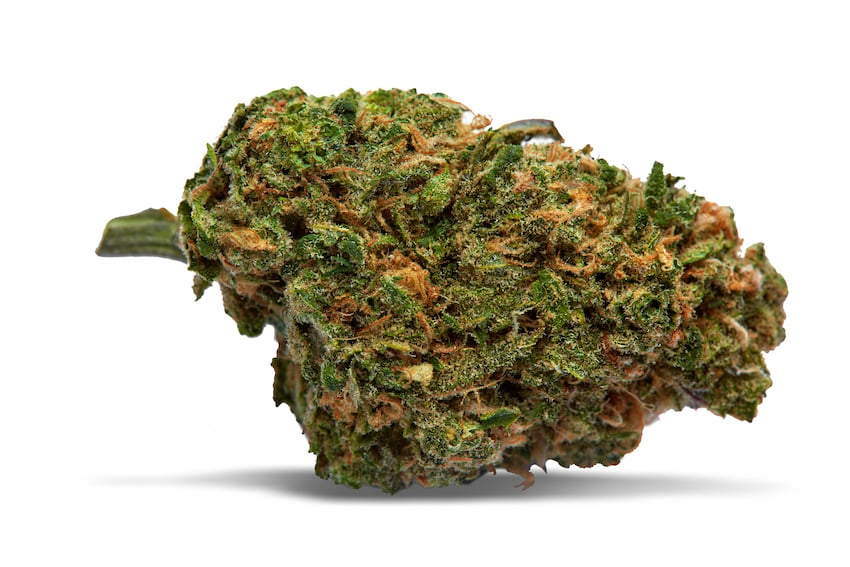 Blue Dream Strain Origins
There are a few rumors surrounding Blue Dream's origins, but the most common story involves a Santa Cruz-based breeder named DJ Short. Allegedly, DJ Short created Blue Dream by mixing genetics from fan favorites Blueberry and Haze.
In terms of sativa-to-indica dominance, Blue Dream seems to lean on Haze's end of the spectrum. This fruity hybrid typically has a sativa ratio of 60 percent and an average THC score of around 20 percent. Interestingly, many Blue Dream cultivars have CBD rates of about 2 percent. While this tiny percentage may not seem remarkable, please remember that most marijuana strains have < 1 percent CBD.
Even though Blue Dream has some CBD, it's not an excellent choice for new cannabis smokers. This strain's high THC count and sativa edge could agitate pre-existing anxiety conditions like PTSD.
If customers want an energy boost without the risk of paranoia, they should focus on high-CBD hemp strains. Cannaflower now offers many sativa-dominant, low-THC hemp flowers that provide stress-free stimulation. Please browse Cannaflower's online hemp flower portfolio for more details.
Fruit, Fruit, And More Fruit — Blue Dream's Aromatics
Blue Dream is basically blueberry pie in weed form. The terpenes on these dense & dark nugs are sugary sweet with strong traces of tart berries. You may also pick up refreshing earthy tones like pine and woods as you smoke these nugs. Overall, you should expect a saccharine flavor explosion when smoking a Blue Dream joint.
A Slight Sativa "Sugar Rush" — Blue Dream's Standard Effects
Judging by its name, you might assume Blue Dream has soothing properties. However, after people take a few tokes of Blue Dream, they'll likely be "up and about" rather than dreaming the day away.
Blue Dream's high may not be as crazy as other sativa strains, but it usually gives tokers a euphoric head-rush sensation. The strong presence of Blueberry helps keep this sativa rush in check, but it's unlikely to leave you couch-locked. Indeed, many artists love using Blue Dream to bust through creative blocks. Blue Dream is also a common choice when tokers want to feel uplifted and sociable.
Is Blue Dream Out Of Your League? — Try CBD Flower Instead!
Experienced tokers may love Blue Dream's effects, but this strain is often too intense for new smokers. Thankfully, plenty of low-THC hemp alternatives mimic Blue Dream's aromatics and effects. For instance, Cannaflower now sells the sativa-forward strain Berry Cobbler. Made from a unique Berry Blossom phenotype, Berry Cobbler has all the tart and sugary terpenes in standard Blue Dream. However, since Berry Cobbler has ≤ 0.3 percent THC, you'll only feel the clear-headed relaxation of CBD.
For more info on Cannaflower's artisan-grade Berry Cobbler hybrid, please click this link.