Cherry Wine Review
The most common question we get asked about any of our CBD Flower strains here at Cannaflower™ is whether it's an indica-dominant or sativa-dominant strain. Our Cherry Wine Strain offers our customers the chance to experience a rare, perfectly balanced hybrid hemp flower, being 50% indica, 50% sativa. Given it's nature as a True Hybrid, Cherry Wine hemp flower can be enjoyed day or night.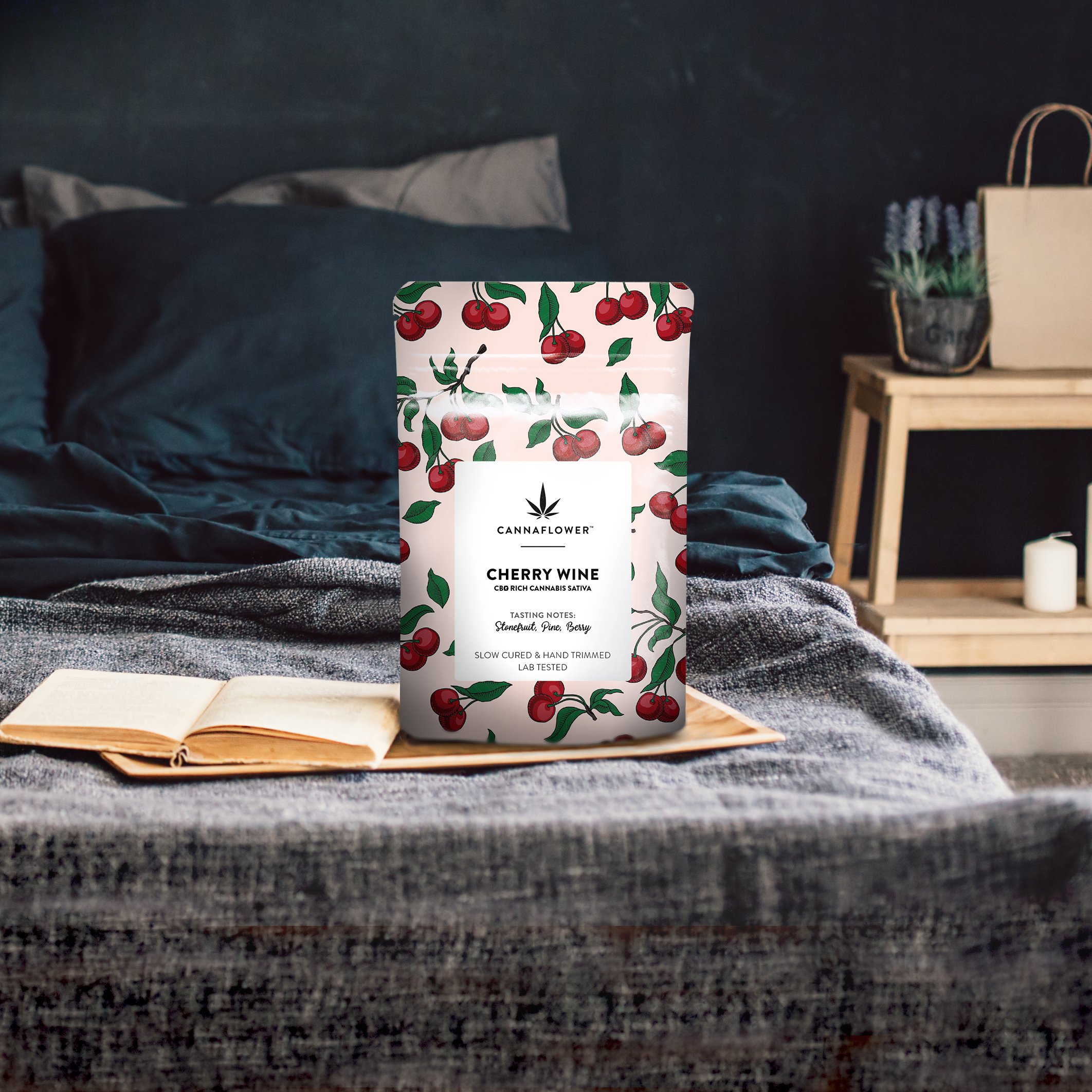 Origins & History
At this stage of the game there are so many hemp strains with 'Cherry' in the title: Cherry Pie, Black Cherry Soda, Cherry Kush, etc. etc., the list goes on and on. For those not 'in the know' It may be an ill-advised bet to hazard a guess as to Cherry Wine's exact lineage. 
Cherry Wine was first cultivated by High Grade Hemp Seed Co. When they cross-bred Charlotte's Cherries with The Wife. 
Charlotte's Cherries, also commonly referred to as 'Cherry Charlotte Strain' provided Cherry Wine with most of its Sativa heritage. Charlotte's Cherries itself is a hybrid that was developed through cross-breeding Colorado Cherry with the legendary Charlotte's Web Strain. 
The origins of The Wife CBD Hemp flower strain remain shrouded in far greater mystery. Clearly The Wife 'married up' when it was bred with Charlotte's Cherries, but even before they got hitched, The Wife was Considered 'Cannabis Royalty' and had a flavor profile of fresh cherries. While The Wife's exact genetics are lost to us, the CBD Hybrid offers a 20:1 CBD/THC ratio! 
While one parent strain is sativa, and the other Indica, both are very high CBD strains; ensuring their Cherry Wine lovechild comes in at the higher end of the CBD content range as well.
Flavor Profile & Appearance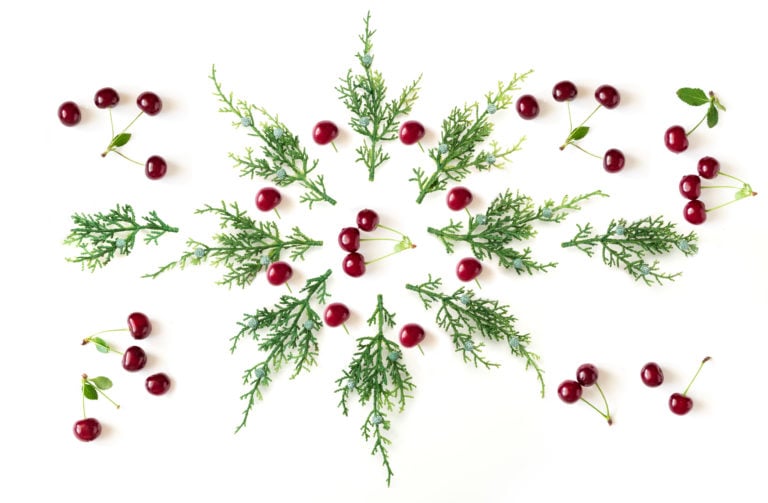 Cherry Wine hemp flowers require nine weeks to mature when grown indoors. When sun-grown, the plant grows quite tall, and typically matures within ten weeks. 
Sparse patches of snowy trichomes can cover up the red and yellow pistils that would otherwise shine through on this warm green plant. Cherry Wine hemp buds come in differing sizes, with one plant providing both large and small cbd buds. Regardless of their size, they are universally described as 'grape shaped.' (Why no one has opted to describe them as 'Cherry Shaped' is anyone's guess.) Cherry Wine bud is also renowned for having very few seeds, which is important to many buyers who feel seeds detract from their experience with the strain. 
The flavor profile should come as no surprise to anyone; Cherry Wine provides notes of ripe cherries, along with earthier notes of pine; both notes found in wines, which no doubt helped to birth the name along with the 'syrupy' texture of the hemp buds' crystals. 
Terpenes & Cannabinoids

Terpenes are botanical compounds responsible for the unique flavor and aromatic profiles of CBD Hemp flower. Together with cannabinoids, terpenes also may play a role in defining the distinct therapeutic properties displayed in each strain.
In addition to her sweet side, Cherry Wine is also a CBD rich powerhouse capable of delivering a lovely balance and smokability. Cherry Wine is one of Cannaflower™'s most cannabinoid-rich strains, with 12.31% CBDa content, 1.61% CBD, .18% CBGa, .14% CBC, and .06% CBG. Cannabinoids interact with your endocannabinoid system. This system plays a role in regulating pain, stress, appetite, energy, sleep, fertility and many other physical processes. For this reason Cherry wine is as sought after for potential therapeutic benefits just as often as it is by people purely enamored of its unique flavor profile. 
With high levels of b-Caryophyllene and Linalool, these terpenes provide the Cherry Wine strain its unique flavor combination of sweet cherries with and earthy undertones as well as may supply some of the strain's reported therapeutic effects.
But what about the aroma of peppery pine, you may be asking yourself? For that you can thank Cherry Wine's 3rd largest terpene, Pinene. Pinene is a terpene found in certain Cannabis strains as well as – you guess it – pine trees. Pinene is also believed by some to aid in lowering inflammation, anxiety, and pain management.
View Cherry Wine's Certificate of Analysis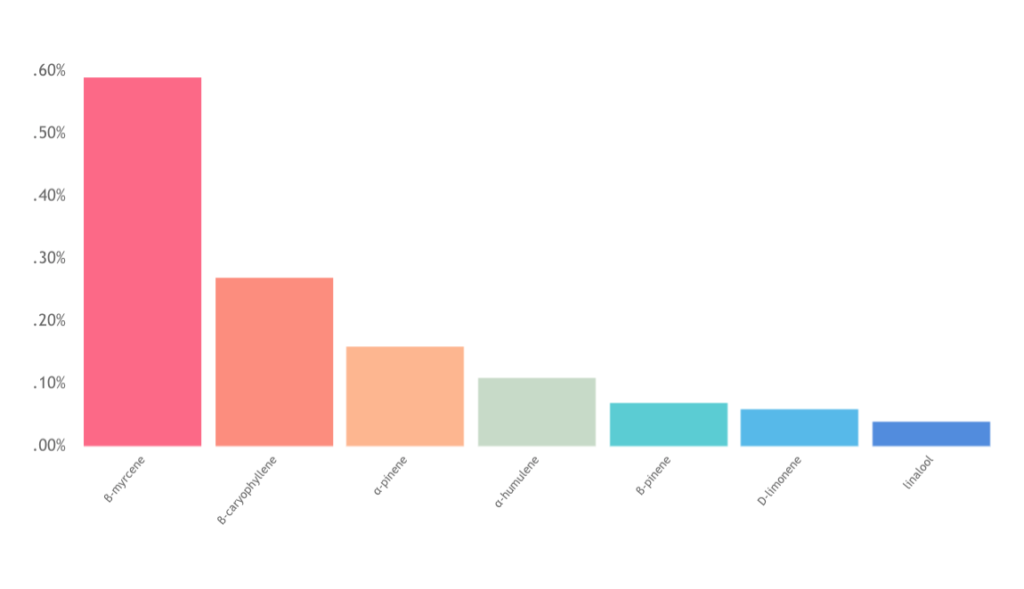 Cherry Wine's Effects
Many Cherry Wine enthusiasts seek out this strain for its high CBD content to hemp manage a number of ailments such as inflammation, anxiety, and depression, or muscular aches and pains. Users report a feeling of calm, and a growing sense of positivity without any lethargy that may detract from daily productivity. In fact, some users report an increase in attention and productivity!
Similar CBD Hemp Flower Strains
Cherry Wine is included in our Downtime Collection alongside Remedy and Special Sauce. 
Remedy has a similar reputation for body relaxation and pain management, with the same tasting note of pine due to high Pinene content. 
Take Cherry Wine home today!
Cherry Wine is a great bedside companion for when you are looking to chase away those long, restless nights.