Wholesale CBD Flower
Ultra-Premium CBD Hemp Flower
Make the ordinary extraordinary with our Cannaflower ultra-premium CBD.  Cannaflower and our extensive team of cannabis experts can provide you with high-quality wholesale CBD flower.
Through Cannaflower cultivation and artisan trimming, your customers will experience the highest standards in CBD products. Our excellence in product design, packaging, and retailing advances is currently celebrated throughout the United States. The wholesale Cannaflower product menu includes a selection of ultra-premium CBD hemp flower strains, stylish and convenient indoor CBD flower, convenient hemp flower pre-rolls available in Cannaflower tins and Cannaflower boxes.
Cannaflower collectively represents over 100 years of commitment and experience in cultivating high-quality hemp flower. Today, more than 300 stores serve customers throughout the United States with our Cannaflower hemp flower products.
High Quality CBD Products
HOW IT WORKS
You are just 3 steps away from joining the Cannaflower Wholesale CBD Program.
Here's what to do next:
Submit your contact information to request our Wholesale Catalog
Receive an email with a link to our wholesale catalog for you to review
A Cannaflower representative will contact you within 24 hours for a quick 5 minute call to review your needs, answer any questions, and – if you're ready – take down your first wholesale order!
Why Partner with Cannaflower?
Cannaflower wholesale cbd products deliver robust margins and a reputation for excellence. Our brand is established as the industry-leading experience in modern luxury for CBD hemp flower. Our Wholesale partners thrive with our low MOQs and rapid turnaround time. Cannaflower Experts are at your service to bring you customer service, assets to growth, and compliant ultra-premium CBD.
Wholesale accounts are available to businesses who have a physical location where our products will be sold and who order multiple times per year. Cannaflower wholesale partners receive the following benefits:
Trust
Work with an established, nationally renowned brand
Sales Support
Your order includes free point-of-sale displays, sales education, and marketing materials
Compliance
All product labels provide our 3rd party lab tests showing legal compliance
Quality
We source, sort, and trim the highest quality CBD hemp flower to ensure you and your customers receive a consistent product experience
Success Begins with Cannaflower
Cannaflower products will stand out on your shelves and will create a loyal following. Each hemp flower strain honors visionary organic farming and innovation in hand-trimming and slow curing. Your customers will experience all of the modern luxury in CBD flower.
With Cannaflower as your partner, you can concentrate on selling more products and growing your business.
In addition to making 60% margin (on average), joining the Cannaflower Wholesale Program also saves you the time you would otherwise spend:
Sourcing quality hemp flower—as well as the time spent scrambling when a 'dry month' hits and suffering a spike in price due to scarcity
Sorting and Trimming the product—which has an average of 30% waste produced per pound
Managing 3rd party lab tests for compliance on everything you buy—not to mention that added cost
Bagging and Labeling and other labor activities associated with the manual labor of preparing a shelf-ready CBD hemp flower product
Federally Compliant and 3rd Party Tested
Cannaflower leads in the industry delivering the highest level of industry compliance. We rigorously uphold the integrity of our products through 3rd party, state-certified lab testing. Every wholesale hemp order is processed with heat-sealed packaging and is labeled with UPC codes and a URL directing your customers to our online COA (certificate of analysis) Cannaflower Labs page. Transparency is vital to us, ensuring that all Cannaflower is a federally legal hemp product.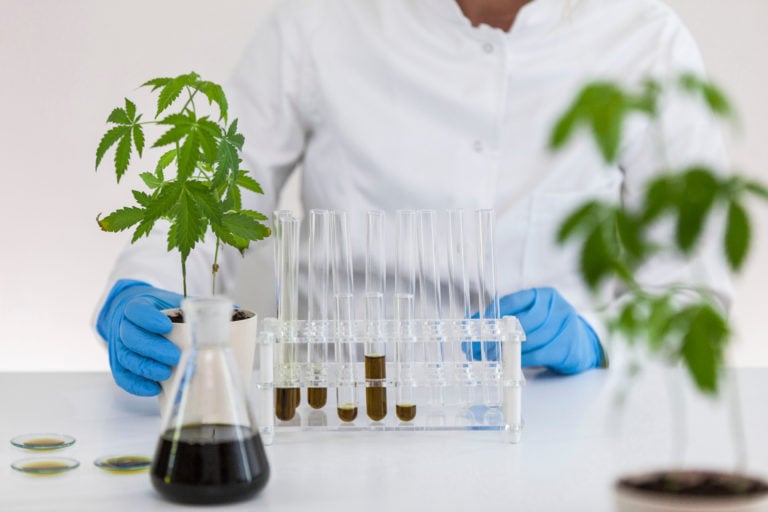 Partner with Cannaflower Wholesale
Discover the savings you could make by joining our wholesale program
Request our Wholesale 2021 Catalog
Please note: To work with Cannaflower you must have a physical location.
What is the minimum order value to open a wholesale CBD account?
There is no minimum order quantity required with Cannaflower. Some of our customers are national franchises, and some of our customers are small, family owned stores just getting started in the hemp industry. We want to be able to accommodate all interested businesses regardless of size.
Cannaflower will handle the cost of shipping on any wholesale order above $400. Any order below $400 will necessitate an additional $15 shipping fee on top of the cost of the products.
Cannaflower does limit wholesale customers to '1 strain per case.' In other words, customers are not allowed to mix and match strains within an individual case. This means the minimum units required for a wholesale order is 12 units 'per strain'.
How long will it take to open my wholesale account?
Not long at all! After a brief phone call with one of our representatives, you will be good to go. On average these phone calls only require around 5 minutes of your time. Our representative will ask a few simple questions about your business, your current needs, and walk you through how wholesale orders are placed and how payment is managed.
How many times will I be expected to make a wholesale hemp flower order every year?
To continue to enjoy the Cannaflower wholesale discounts, we ask our wholesale customers to order at least once-per-quarter (or four times per year). However, most of our customers choose to reorder on a monthly or bi-monthly basis. We are happy to accomodate the natural reorder cadence of your business.
How long will my wholesale CBD flower order take to reach me and how does it arrive?
Typically, wholesale customers receive their orders in under a week's time. Cannaflower ships all our wholesale orders via USPS 2-3 day priority mail. However, we do not begin the process of bagging your flower or rolling your pre rolls until your order is placed. Before your order is placed our hemp flower is kept in an ideal environment: in glass jars with 55%-62% humidity control packs to retain moisture and to keep the CBD flower from drying out. This ensures that you receive our product at its peak freshness. Typically, orders will ship out within 48 hours after your order has been placed – unless your order is especially large. If this is the case, your sales rep will inform you as to when you can anticipate your order to ship.
Which CBD products are included in the Cannaflower wholesale program?
All of the strain varieties, moods, pre rolls, and pre roll tins available for retail on the Cannaflower website are also available for wholesale purchase. In addition, we have several unique products available exclusively for our wholesale partners.
The Cannaflower Wholesale Program makes our products available 'by the case'. Each 'case' contains 12 individual units. Our Sungrown and Indoor Flower strains are available in 2 sizes: 3.5 Gram Cases and 7 Gram Cases. Our wholesale catalog will be sent to you upon submitting your contact info through the wholesale web form and contains all the information you will require to place an order, including pricing and MSRPs on all our available wholesale products.