Cough, cough, pass! Or rather, don't pass it up if someone offers you a taste of Strawberry Cough. The flavor of this sativa-heavy hybrid is as exotic as the strain's origins are mysterious. You might even remember Michael Caine introducing the strain to Clive Owen in the film 'Children Of Men', just one of many reasons Strawberry Cough qualifies as a legendary strain.
Strawberry Cough Strain Summary
Pioneered by Kyle Kushman and perfected by the Dutch Passion Seed Company.
Cross between Strawberry Fields and Haze
18% average THC content
80/20 Sativa to Indica ratio
Won Best Flower in Cannabis Cup 2013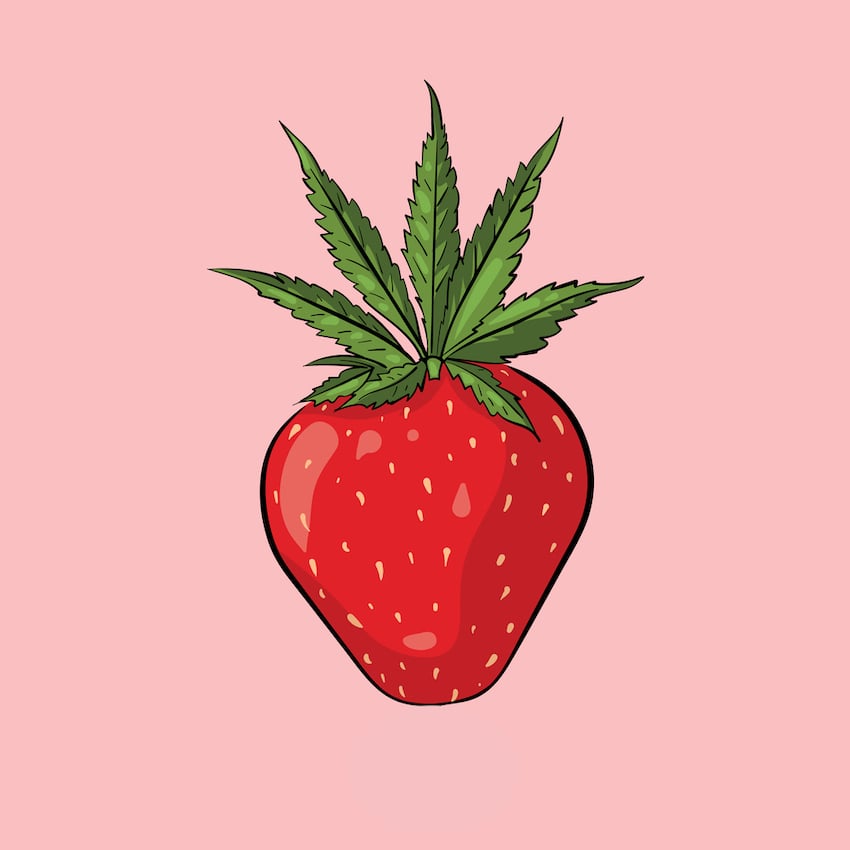 Strawberry Cough History
As mentioned above, the origins of Strawberry Cough are a bit murky and contested. One thing that is known for sure is that the strains' genetics are a unique blend of North American and European breeding.
The story goes that a man named Kyle Kushman – is that his real name? Probably not. – was gifted a clone of Strawberry Fields, a sativa. You might immediately think the strain was named in tribute to the classic hippie anthem 'Strawberry Fields Forever'.
You would be wrong. It is reportedly called Strawberry Fields because it was grown next to a strawberry patch, somewhere in Connecticut, upstate New York or Vermont, to mask the odor of cannabis.
Anyway, sometime later at a cannabis conference somewhere in Europe, Mr. Kushman was approached by Dutch Passion, asking for the genetics. Kyle didn't know the lineage, so he made a cross to produce seeds. It's rumored there are traces of the strains Erdbeer and Sweet Tooth.
Strawberry Cough is a great choice for the moderate cannabis consumer, with an average THC content of 18%. In some cases, it can go as high as between 19 and 21.4%, and sometimes can be found with as low as 16%.
Mr. Kushman himself has been quoted describing the smell of the original clone as 'a pint of strawberries'. Strawberry Cough is the ideal daytime strain, perfect for starting the day with a positive attitude and a smile spread across your face.
What Does Strawberry Cough Taste And Smell Like?
Staying true to its heritage and namesake, both the aroma and the taste are dominated by fruity flavors and stupendous sweetness. It's jam-packed with terpenes.
The dominant terpene is Myrcene, which gives the finish an herbal aroma similar to a bouquet of flowers. It's the perfect strain to give your special someone for Valentine's Day or an anniversary.
The terpene Ocimene gives the strain its signature strawberry taste. Gerianoll adds more floral notes, which is easy to remember since it sounds like Geraniums. Carene rounds out the berry flavors.
Some of the phenotypes in Strawberry Cough inject a spicy kick into the mix, adding peppery notes. The phenotype split weighs in at one-third indica, and two-thirds sativa. Other terpenes found in the blend include Caryophyllene, Limonene, Pinene, Humulene and Terpineol.
Effects of Strawberry Cough
Strawberry Cough is known for its calming but at the same time energizing effects. It pairs perfectly with activities where your mind needs to be focused, like studying or problem-solving tasks.
Strawberry Cough consumers report feeling chatty and social without feeling overstimulated. The body is relaxed and most of the heavy haze influence is felt upstairs in the head.
Low-key activities like simple people-watching become enlightened by boundless creative energy. The strain is noted to be good for times of elevated stress, leaving you relieved and relaxed. Or when you need a boost of energy.
What Side Effects Can I Expect From Strawberry Cough?
The worst effect is right there in the name. It's a cougher. It can cause dry mouth, dry eyes, headaches, dizziness and mild paranoia. It's important to remember that everyone reacts differently to the effects of cannabis.
Still Not Sure About Strawberry Cough?
Strawberry Cough is great for moderate and daytime smokers. If you are a beginner, consider trying our CBD hemp products to avoid the intoxicating effects of THC. Strawberry Cough has a fairly low CBD content. On average 0.2%, less than the federally mandated limit CBD products can contain. All our hemp flower products contain less than the legal limit of 0.3%. Other related strains are Lemon Haze, Sweet Tooth, Lemon Thai, and Strawberry Durban Diesel. Check out this link to see if any can be found in the Cannaflower CBD hemp portfolio.