Space Invader Highlights
Type: Indica Dominant
Tasting Notes: Herbal, Clover & Hops
Effects: Calm, Restful & Body Relaxation
Common Uses: Rest, Unwind & Body Soothing (for aches and pains)

Introduction: Space Invader CBD Review
The latest indica dominant hybrid to hit the low THC cannabis industry Space invader is a cross between very rare and sought after T1 X spectrum genetic strains. Be ready to blast off into space with the space invader hemp strain. Space Invader hemp flower provides celestial notes of kush reminiscent of CBD strains like Bubba Kush and OG Kush, while embodying an array of fruity flavors as well. This hemp flower strain will ride through your taste buds like a rocket and take you to new heights!
Flavor Profile, Aroma, & Appearance of Space Invader CBD Strain
Hitting celestial notes of earth, herbs, and spice with undertones of gas and sour fruit, the notes of kush embodying this cannabis strain are reminiscent of its fellow Cannaflower indica strains OG Kush and Bubba Kush.
This CBD strain has a vigorous growth pattern and thick flowers, larger than most other indica strains you will find on the market. Anyone who decides to take this girl on a ride will have earthy notes of clover, hops, and herbs rocket through their taste pallets.
Terpenes & Cannabinoids in Space Invader Strain
Main terpenes found in this CBD hemp flower strain are mycrene, caryophyllene, Linalool, and Limonene.
Myrcene is terpene also found in hops, so it's no wonder that this hemp strain contains such a hoppy aroma. The most frequent terpene found in hemp flower strains, myrcene is believed to provide a calming effect for users.
Caryophyllene, on the other hand, is said to provide anti-inflamatory effects and provides this hemp strain its flavors of earth and spice.
One of the most unique features of this hemp flower strain is its exceptionally low THC levels: testing at less than 1% THC (.67% to be exact.) To get much lower than that, you would likely have to move away from CBD strains and try CBG, such as Cannaflower's White CBG.
With such incredibly low THC content, its amazing that this is the second highest strain in terms of CBD content, testing at 15.68%, coming in just behind the lifter CBD strain at 18.28%!
Space Invader Effects
With the calming and anti-inflammatory properties associated with this cultivar, it's no surprise that many users use it to soothe-away physical ailments like aches and pains. Like any indica, the sensations are relaxing and light and primarily physical.
Low THC levels make this strain an ideal strain for anyone weary of THC or who feels they may have a greater sensitivity to psychoactive cannabinoids.
Take Space Invader Home Today!
Click on the following link to buy Space Invader CBD online.
Click on the following link to review Space Invader's Certificate of Analysis.
Similar CBD Hemp Flower Strains
Space Invader is the latest edition to our growing and evolving line of Indica CBD strains. Because of it's deep notes of kush, if you love Space Invader we highly recommend you also try its fellow indicas and buy OG Kush and Bubba Kush.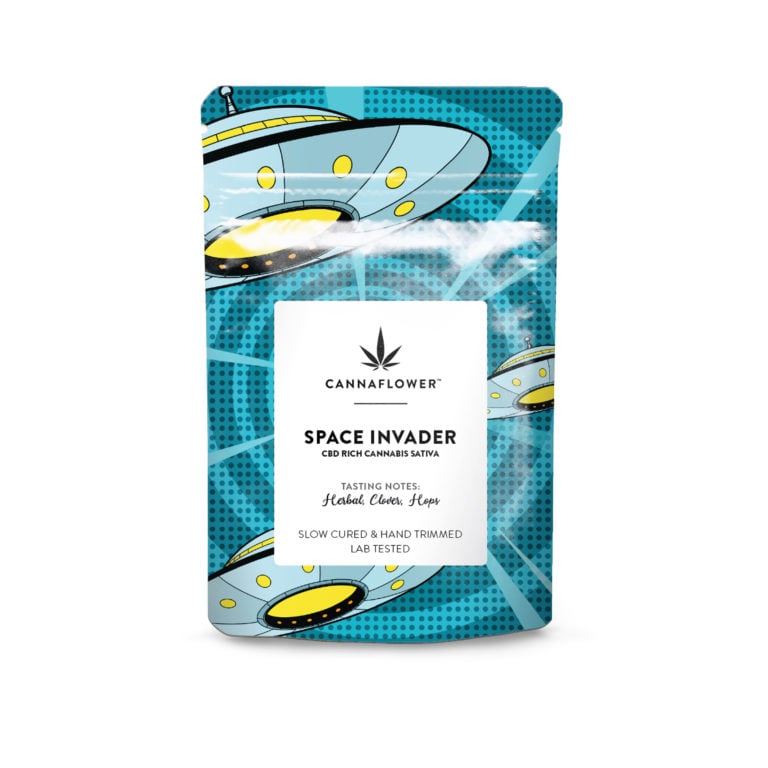 Blast off and soar with an out-of-this-world indica dominant evening strain.