Sour Space Candy Review
This is Cannaflower's top-selling daytime hemp flower strain. The Sour Space Candy CBD Strain came in 3rd Place at the High Times Hemp Cup, and has developed a reputation as the ideal 'social smoke', both for its fun, candy-infused flavor profile, as well as its effects. Sour Space Candy is a 'balanced hybrid', and possesses an equal balance of both Sativa and Indica. The indica elements of the hybrid provide relaxation while the sativa elements keep you feeling joyful and alert.
Origins & History
Sour Space Candy was bred by Oregon CBD when they crossed their Sour Tsunami strain with their frequent breeder, Early Resin Berry. Sour Tsunami is best known for being one of the first strains bred for high CBD and low THC content. Sour Tsunami granted its offspring it's high CBD content, as well as its flavor profile of sour diesel. When this mixes with the citrus and berry flavors inherited from Early Resin Berry, you get a taste that can only be described as 'candy from outer space.'
Flavor Profile & Appearance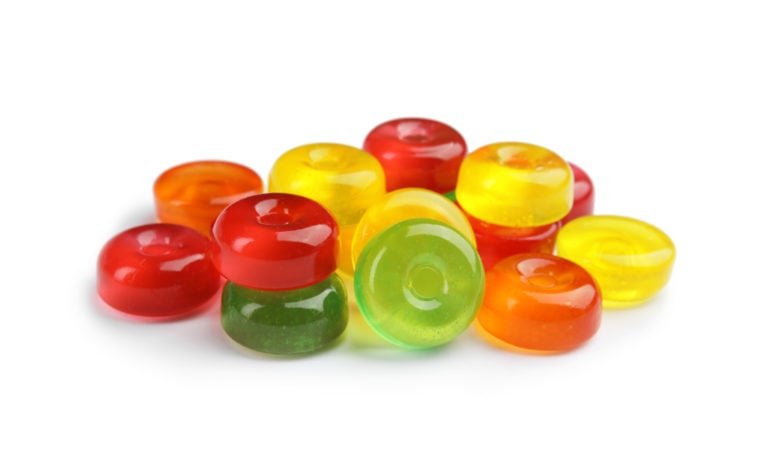 The Sour Tsunami had the strongest stalk of any plant produced by Oregon CBD, and just like its parent place, Sour Space Candy grows strong and is a great producer; especially in drier climates.
The Sour Space hemp flowers are the largest, and hardest to the touch you will come across. The 'candy' name must have also been applied to the strain due to its multicolored buds, which come in with green, purple and orange tones that pop off the backdrop of Sour Space's mint green leaves. The seed content is above average for this strain as well, but the seeds only seem to add to its unique personality and haven't gotten the way of its reputation. The crystalline trichomes covering the buds can appear just like glistening candy shells.
The sour, diesel fuel smell combined with the aroma of apples and cherries is what places a 'candied' finish onto the otherwise fruity nose of Sour Space Candy. The aroma is very strong, and there is not another strain that smells anything like it! The exhale is smooth, but just as pungent as the inhale, with a strong aftertaste of apple, reminiscent of a jolly rancher or other sweets.
Terpenes & Cannabinoids
Terpenes are botanical compounds responsible for the unique flavor and aromatic profiles of CBD Hemp flower. Together with cannabinoids, terpenes also may play a role in defining the distinct therapeutic properties displayed in each strain.
See Certificate of Analysis for Sour Space Candy
The sourness of this strain comes from the loud terpene mixture of high pinene content and high myrcene content.
Pinene can be found in trees, oranges, and common household herbs and spices such as parsley and rosemary. (Sadly, it's not found in sage or thyme. Apologies to Simon and Garfunkel.) My research is still being conducted on pinene, including its function as an anti-inflammatory, a bronchodilator (i.e. something that helps to open airways), and pain-reliever.
A common myth is that Myrcene levels can tell you whether a strain will be more sativa or indica-dominant. It's often believed that strains with more that 0.5% myrcene will provide indica-dominant effects, whereas strains with less produce sativa-associated effects. However, no test has proved this to at all be the case.
Regarding cannabinoid content, Sour Space Candy has one of the highest CBD potencies of any Cannaflower strain, with lab results showing 14.8% CBD content.
Sour Space Candy Effects
As mentioned earlier, Sour Space Candy is a 'balanced hybrid', meaning that neither the mind or body elements (sativa vs indica) of the strain outweigh one another. Indica-dominant strains are believed to be provide more physical effects, such as sedation and relaxation. Savitas, on the other hand, are said to have a greater impact on mental states such as mood. Indica strains have developed a reputation for being more therapeutic, while Sativas strains are seen as more social strains, used to enliven gathering or spark ones creative energy.
The balanced qualities of Sour Space Candy have made this strain a fan favorite. Users report that the physical properties of relaxation do not overpower one's mind or interfere with mental clarity. The most common adjective used by Cannaflower customers to describe the mental mood facilitated by Sour Space Candy CBD flower is 'euphoric'. While Sour Space may help with pain and anxiety, the strain's qualities make Sour Space Candy best suited for sharing with friends in social settings, rather than for smoking alone.
Similar CBD Hemp Flower Strains
Sour Space Candy is included in the Cannaflower CBD Daytime Collection along with Lifter and White CBG. All of these strains offer the use an enlivened calm without any risk of sinking into your couch or becoming too subdued.
Lifter is a very popular daytime strain with high limonene content and notes of citrus. It's just as enlivening as Sour Space Candy without as funky an aroma.
White CBG provides an enlivened calm with a near-zero level of THC content.
Take Sour Space Candy home today!
Sour Space Candy is a great daytime strain when you're looking for an enlivened calm.