Island Sweet Skunk Highlights
Cannaflower currently only carries a similar strain, Hawaiian Haze; however, we were able to get our hands on Island Sweet Skunk for this review. Enjoy!
Highlights:
Type: Sativa-Dominant
Aroma: Skunk, Citrus, Pine
Flavor Profile: Sweet, Grapefruit, Spice
Effects: Creative, Energetic, Uplifting
Common Uses: Muscle Spasms, Depression, Anxiety
Introduction: Island Sweet Skunk CBD Review 
Also known as Sweet Island Skunk or ISS, the original Island Sweet Skunk was a cross between Sweet Pink Grapefruit and the legendary Skunk #1. Hailing from Vancouver, Island Sweet Skunk has been a staple strain for Pacific Northwest's cannaseurs for decades. In 2013, the hybrid earned a place in High Times magazine's list of the 10 Top Canadian Strains of All Time.
Cannaflower's high CBD strain, Hawaiian Haze, features the same lively energetic effects and crowd-pleasing flavor of this celebrated strain.
Flavor Profile, Aroma, & Appearance of Island Sweet Skunk CBD Strain

Island Sweet Skunk plants burst in pastel colors with mint green buds sprouting lemon-yellow and peach pistils. When you open a bag of Island Sweet Skunk CBD, you'll immediately be greeted by a familiar citrusy skunk aroma with subtle notes of pine. Once you light up or vape the flowers, you'll delight in the unique grapefruit and mango flavor and smooth toke.
Cannaflower takes careful measures to preserve the terpenes and cannabinoids in all of our hemp flower buds. We harvest our plants individually at their peak and cure them slowly for a full 90 days. We pride ourselves on providing our customers with some of the highest quality artisanal hemp flowers on the market today.
Terpenes & Cannabinoids in Island Sweet Skunk Strain

A high concentration of limonene gives Island Sweet Skunk its unmistakable grapefruit characteristics. For decades, manufacturers of cleaning products and air-fresheners have included limonene in their formulas as the terpene emits a refreshing citrus scent and combats harmful microbes.
Myrcene adds a sweet, earthy flavor with a dash of bitter hops. Commonly considered the couch-lock terpene, myrcene contributes to Island Sweet Skunk's laid-back vibe. MMJ physicians often recommend high-myrcene strains for their sedative and analgesic properties.
Another abundant terpene in Island Sweet Skunk CBD, beta-caryophyllene has an uncanny ability to help reduce inflammation. Like many cannabinoids, beta-caryophyllene binds directly to ECS receptors, making the terpene of particular interest to researchers. Beta-caryophyllene enhances Island Sweet Skunk's primary aroma with subtle notes of spicy cinnamon and clove.
Island Sweet Skunk's trace terpenes round out the strain's award-winning flavor and contribute to its ability to facilitate the therapeutically beneficial entourage effect. The predominant terpene in the legendary Jack Herer strain, terpinolene exhibits potent antioxidant capabilities and has been found to have a sedative effect in animal studies. Terpinolene adds subtle hints of patchouli and sage to Island Sweet Skunk's flavor profile.
Aromatic linalool works with CBD to help produce the tranquil feelings often associated with Island Sweet Skunk CBD buds. As evidenced by its nickname as the "spa-terpene," linalool may play a role in reducing anxiety and depression. 
Like its high-THC sister, Island Sweet Skunk CBD possesses a hefty level of active cannabinoids. The strain's cannabidiol content can reach up to 20% with trace amounts of alternative cannabinoids like CBG and CBN. Cannaflower's CBD flowers test significantly below the legal threshold of .3% THC, making them ideal for consumers who want to bypass any intense psychoactive effects.
Island Sweet Skunk Effects

With a 75:25 indica-to-sativa ratio, Island Sweet Skunk CBD makes for a powerful mood booster. Many consumers choose Island Sweet Skunk as a wake-and-bake strain to imbue their days with happy feelings, calm creativity, and daytime motivation. Island Sweet Skunk is perfect for outdoor activities or just kicking back in a hammock.
Similar CBD Hemp Flower Strains

If you enjoy Island Sweet Skunk CBD, you may want to try some of Cannaflower's similar strains of low-THC cannabis flowers. 
Like Island Sweet Skunk, Hawaiian Haze combines tropical fruit and sour citrus flavors with sativa genetics. Cannaflower also offers convenient Hawaiian Haze pre-rolls for a quick and tasty energy boost.
Cannaflower features our popular Hawaiian Haze CBD strain in several of our collections. Hawaiian Haze joins Remedy, Cherry Wine, and Bubba Kush in our best-selling Taster's Menu 2.0. Remedy and Bubba Kush are indica-leaning strains that make a perfect nighttime complement to Island Sweet Skunk's powerful energetic effects. With its balanced genetics and sweet fruity flavor, Cherry Wine makes for a delightful treat for both day and night.
For those who prefer uplifting effects and citrus aromas, Cannaflower offers several sweet and tart sativas as part of our Daytime Collection, featuring Frosted Lime, Lifter, and Sour Space Candy. Similar to Island Sweet Skunk, all three strains combine the sweet taste of citrus fruit with skunky aromas and upbeat vibes.
Cannaflower customers can also find an energetic daytime blend with our Lift Pre-Rolls. Our decorative pre-roll tins include five expertly crafted joints containing a full gram of our premium hemp flower. Achieving enlivened calm has never been this easy!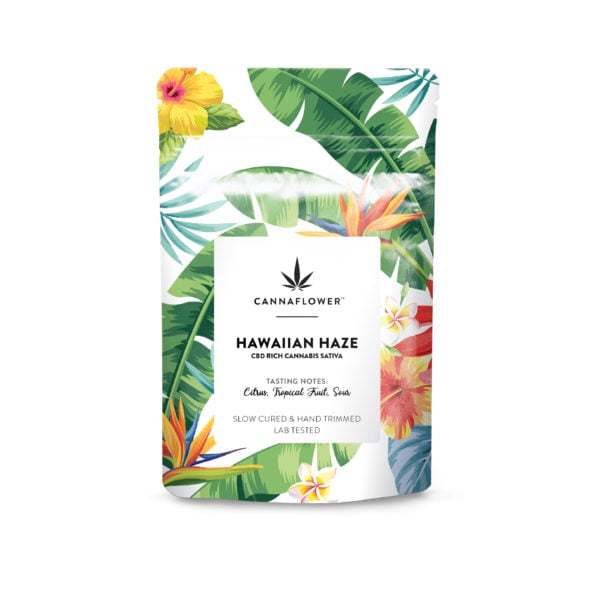 A splash of warm sunshine perfect for kicking back anytime of the day or night.