Hawaiian Haze CBD Review
With the Hawaiian Haze hemp flower strain, anytime can now be island time. If you haven't guessed it from the name, these CBD hemp buds are bursting with flavors of pineapple and tropical fruit. If there's another scent you can't quite pin point, that'd be hawaiian flower. This hemp strain is Sativa dominant with a higher than average CBD content and received 1st place at the 2020 High Times Hemp Cup. Can't decide between a daytime or an evening strain? Hawaiian Haze is the perfect choice for those in between moods when you aren't looking to sink into the sofa, but aren't planning on running a marathon either. Think of this CBD flower as your "Vacation Strain."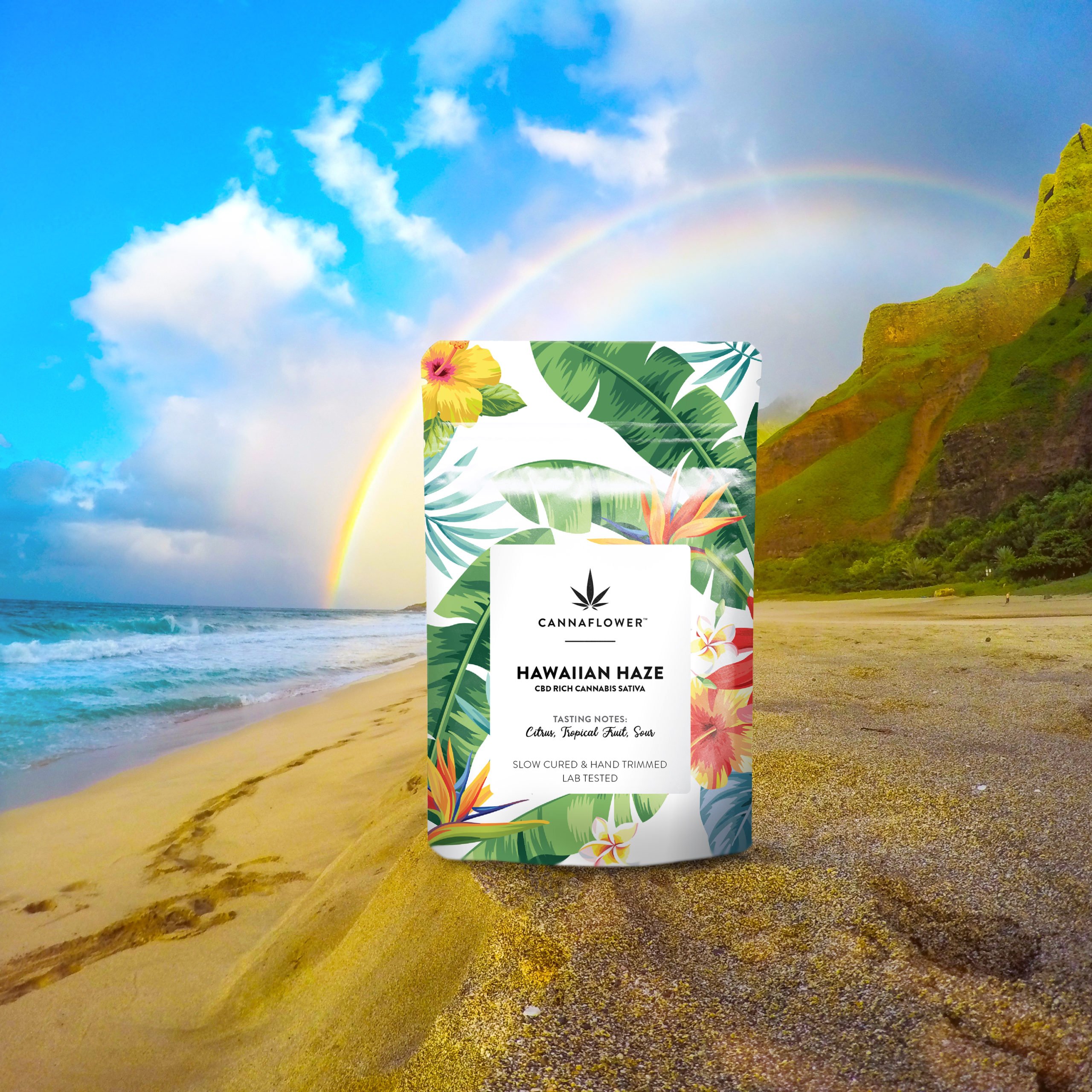 Origins & History
You'd think a name like Hawaiian Haze might have come through a lightning strike of inspiration upon smoking this CBD flower or standing in a field of this exotic hemp and taking in the tropical aroma, but in point of fact it's just a combination of the two sativa plants that were bred together to cultivate this strain; Hawaiian Haze is bred from Haze and Hawaiian genetics.
The slow growing Haze Strain originated in 1960s California (this is where most people insert the joke "doesn't that describe every single cannabis strain?") but was quickly cross-bred with over strain from throughout the world, giving birth to strains in South America and Southeast Asia.
Whether or not the Hawaiian Strain actually originated from Hawaii is a source of much conjecture, but it's flavor profile has alway invoked the fruits and flowers of the island chain. Just like its mate Haze, it has been bred far and wide, both throughout the US and abroad.
Hawaiian Haze is the descendant of High THC, Sativa royalty, and has also inherited their very slow growth. Perfection takes patience. Hawaiian Haze is typically only harvested in late November, whereas other strains are fully flowered and ready by late September or Early October. Growing this strain is best left to the veterans.
Flavor Profile & Appearance
Hawaiian Haze is a particularly tall hemp strain. Buds are large in diameter but of a medium-to-airy density. The tallness of the flower is accentuated further by the strain's long leaves and hairs. The trichome layer is more thick than with most other hemp buds. If you've ever noticed the weight of different hemp strains, you'll notice that Hawaiian Haze is surprisingly light compared to other strains with similar CBD content.  If you've experienced a few different CBD fields, Hawaiian Haze is unmistakable from any other hemp flower stain.
In terms of flavor, they don't call it "The Vacation Strain" without cause. The floral and fruit aromas of this hemp flower transports you to the tropics. These island notes start with the nose and stay all the way through the final taste. The most common fruit remarked on is pineapples, but users also report mangos and lemon-lime citrus. Despite packing such a punch in terms of taste, the smoke itself is not overly harsh and many consider it to be on the milder side.
Terpenes & Cannabinoids
Terpenes are botanical compounds responsible for the unique flavor and aromatic profiles of CBD Hemp flower. Together with cannabinoids, terpenes also may play a role in defining the distinct therapeutic properties displayed in each strain.
A CBD strain can't have such unique flavors without having a unique terpene breakdown. High beta caryophyllene and humulene are seconded only by the myrcene content. High myrcene is also found in mangos, and may contribute to the tropical flavor profile along with these other terpenes. In fact, it's believed that eating mangoes 45 minutes before smoking cannabis may increase its efficacy. If you want nerd out it, you can read more about myrcene and The Mango Myth.
Hawaiian Haze Effects
As previously mentioned, Hawaiian Haze is neither a daytime nor a nighttime strain. It is, however, a sativa strain, so users can expect more cerebral, mind effects than impacts on the body. Hawaiian has should not cause sleepiness, and may cause increased mental clarity, but it's not the ideal strain for leveraging that clarity into a focused activity of your choosing. It's quite rare for a CBD strain to strike such a balance and not move someone in the direction of either increased focus or sedation. The ideal environment is just a laid back time with friends and family. Users report feeling chatty and jovial, and at ease.
Whole not known or sought after for medicinal purposes, Hawaiian has shares many terpenes from other therapeutic strains. Hawaiian Haze terpenes have been said to help with mental problems such as depression and anxiety, as well as physical ailments such as nausea.
Similar CBD Hemp Flower Strains
Hawaiian Haze is included in Cannaflower's Soothe and Relieve Collection along with Cherry Wine and Sour Space Candy. All these strains can help you recover from stress and cope with the obstacles that your day may throw your way.
The Cherry Wine CBD strain is another 'middleweight strain' like Hawaiian Haze, that won't make you overly focused or overly sedated. Both have a fruity flavor profile but the Cherry Wine Strain has Indica heritage and features, making it more focused on the body than the mind.
Sour Space Candy CBD Strain is another Cannaflower strain that doesn't take itself too seriously; a laid back, 'social smoke' with a powerful, pungent fragrance. Sour Space may have a slightly more energizing impact than Hawaiian Haze.
Hawaiian Haze Certificate of Analysis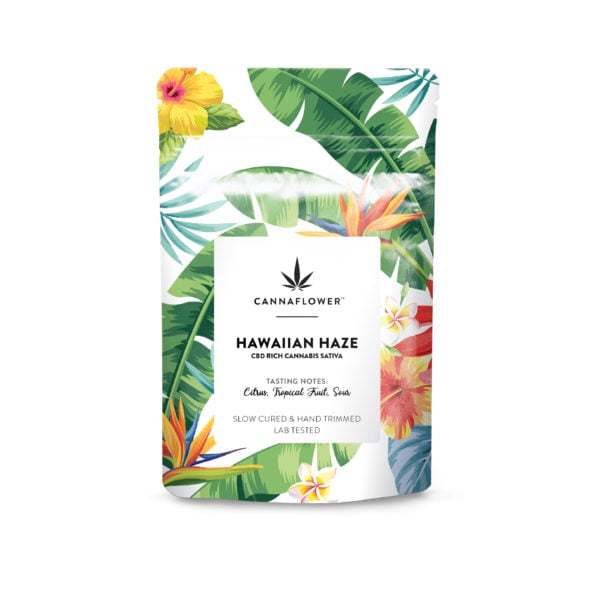 With tasting notes of sour citrus and tropical fruit, this is a great relaxing strain for anytime, day or night.