Of the many GSC renditions now in circulation, the GMO strain has to be the stinkiest. Anyone who likes skunky terpenes will start drooling once they smell the aroma from well-cured GMO flowers. Indeed, this strain reeks so much that it's garnered plenty of garlic-themed nicknames. If you're proud to smoke loud weed, GMO is one sedating strain you should research.
GMO Strain Summary
Created at Spanish seed bank Mamiko Seeds.
Mix of the strains Girl Scout Cookies and Chemdawg.
90/10 indica-to-sativa ratio.
Average THC of 20 – 25 percent.
≤ 1 percent CBD content.
GMO Strain Origins
Although GMO is a rare hybrid, there's no mystery surrounding its origins. Everyone agrees this strain originated at Spanish-based Mamiko Seeds and contains traces of Girl Scout Cookies and Chemdawg. Since both of these hybrids lean indica, GMO typically has a 90/10 indica-to-sativa ratio. In terms of THC, GMO flowers could have rates well above 20 percent.
Obviously, GMO is a no-go for new cannabis smokers. Even pot pros are blown away by GMO's couchlock effects. Anyone new to smoking trichome-rich nugs should start with legal, low-THC hemp flowers. Many CBD hemp hybrids on Cannaflower are similar to GMO without the original's psychoactive properties.
By the way, nobody's sure what "GMO" refers to. However, some claim it may be a tongue-in-cheek reference to "genetically modified organisms." It's also possible breeders used "GMO" as a riff on "GSC" with a nod to Chemdawg.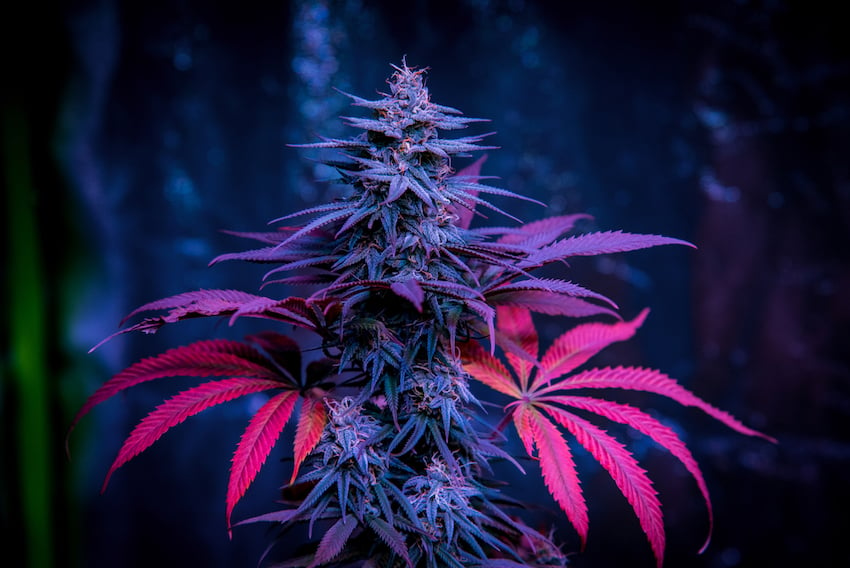 Sensationally Stinky — GMO Cookies' Aromatics
Before grinding a few GMO nugs, prepare your nostrils for some gnarly garlicky aromas. Budtenders didn't nickname this strain "Garlic Cookies" for nothing! On top of super skunky notes, you should pick up diesel and citrus flavors from the Chemdawg lineage. You may also notice a bit of spice and hash while exhaling this smoky strain.
How Does It Feel To Smoke GMO Cookies?
While GMO doesn't taste like a dessert strain, it's definitely a nighttime-only hybrid. As a near 100 percent indica, GMO hits customers hard with a hazy, body-heavy high. A few minutes after smoking GMO, you're not gonna want to go anywhere. Some users even report sedative effects after taking moderate to high doses of GMO. To play it safe, only smoke GMO when you're interested in a sleepy "stoner" high.
Don't Go Straight For GMO! — Start With Cannaflower's Low-THC Hemp
If you're new to cannabis, you may want to "jump in the deep end" with a high-intensity strain like GMO. However, rushing into high-THC strains will likely leave you disoriented. When building a tolerance to cannabis, it's best to go low and slow. Thankfully, there are plenty of low-THC hemp hybrids that anyone could sample in Cannaflower's portfolio. Even if you have no experience with cannabis, these CBD strains are super safe and soothing. Please find out more about our hemp flower portfolio on this link.