Disclaimer: None of the following information should be construed as legal advice on the part of Cannaflower™. Cannaflower™ is simply attempting to provide the most up to date information of which we are aware. We always recommend following your doctor's advice and researching your own State's regulations and laws for all of your activities and purchases.
The State of Alabama
The State of Alabama honors the 2018 farm bill which legalized hemp farming. If growers and processors can produce 3rd party tests results which prove to both law enforcement and the food and drug administration that their hemp crop contains less than 0.3 THC, then that hemp is considered to be a legal agricultural product.
The 1970 Federal Controlled Substances Act defined all plant cannabis sativa, including hemp, as a Schedule 1 narcotic. The passing of the 2018 farm bill by congress removed hemp-derived CBD containing less than 0.3% THC from this category.
'Hemp' and 'marijuana' are different categories of cannabis. A plant is considered to be 'hemp' if it contains less than 0.3% THC. A plant is considered Marijuana if it tests above the legal THC threshold of 0.3% THC. Hemp is legal. Marijuana is illegal.
Before Alabama recognized growing hemp as a legal agricultural commodity when the 2018 farm bill was enacted, the only cultivation was a small, highly regulated medical marijuana program. By the end of 2019 At present, there are over one hundred and eighty hemp farming licenses issued and possessed in the state. These licensed state growers can grow and sell hemp.
Despite the State's historical opposition to cannabis, the Cotton State is now one of the most progressive and hemp-friendly states.
Alabama CBD Laws prior to the 2018 Farm Bill
In 2014, SB174, AKA "Carly's Law" permitted Alabama residents suffering from epilepsy to be prescribed CBD for the treatment of the condition. However, States with legalized medical marijuana permit doctors to recommend, as opposed to granting them the use of the federal term, prescribe.
In 2016, HB 61, AKA "Leni's Law" expanded access to medical CBD by adding other seizure-inducing conditions.
In 2016, the Alabama Industrial Hemp Research Program Act was passed by State Legislature. This act empowered ADAI (the Alabama Department of Agriculture and Industries) with the authority to create an inspection program which could result in granting licensure for the production of industrial hemp. ADAI completed the development of these regulatory procedures immediately prior to the 2018 farm bill was enacted into law.
Alabama Hemp Laws after the 2018 Farm Bill
In 2019, SB 225 made it legal for pharmacies throughout Alabama to sell CBD products.
Alabama Regulations FAQs:
So, is it legal to grow CBD hemp flower in Alabama?
You need a license. An Alabama license costs $1000 annually and the application fee is $200. If you are a licensed vendor and are able to prove your CBD flower contains less than 0.3% THC, then it is legal for you to sell CBD hemp products in the State of Alabama. Steve Marshall, Alabama's Attorney General, does offer the caveat that Alabama has not yet passed into law any regulatory measures for the labeling and THC testing of hemp products.
Happily, all Cannaflower™ hemp strains are tested by third party labs. All of Cannaflower™'s products are labeled with QR codes that will redirect anyone to the lab results proving our strains are federally legal and contain less THC than 0.3 on a dry weight basis.
While licensed hemp growers and processors aren't legally required to post THC test results, ADAI has the legal right to demand sample lab testing from any grower or processor at any time for any reason. If a licensed hemp grower is found to be growing a hemp crop that is found to be above 0.3% THC, they may have their license immediately revoked and subject to a financial fine of up to $500. Licenses may also be revoked if any individual or organization fails to pay their annual fee.
How many licenses has the Alabama Department of Agriculture and Industries Issued?
At the time of this blog's publication, the Alabama Department of Agriculture and Industries had issued more than 200 licenses related to the growing and processing of industrial hemp. 152 licenses have been for growers, and 59 licenses have been for processors.
Is it legal to sell CBD hemp flower in Alabama?
A more commonly asked question is, "Do I need a license to sell hemp flower in Alabama?" The answer is no. While the cultivation and processing of hemp flower requires a license indicating the approval of the Alabama Department of Agriculture and Industries, there are no such license requirements or regulations related to the selling of CBD products. (Assuming they meet the legal limit of <0.3% THC.)
However, selling any hemp flower product over the legal THC limit is considered a felony and has severe consequences. Prison sentences can be as short as two years or as long as 20. If found guilty, individuals can face fines can range up to $30,000. If convicted of selling cannabis to a minor, that fine is doubles and can potentially carry a life sentence.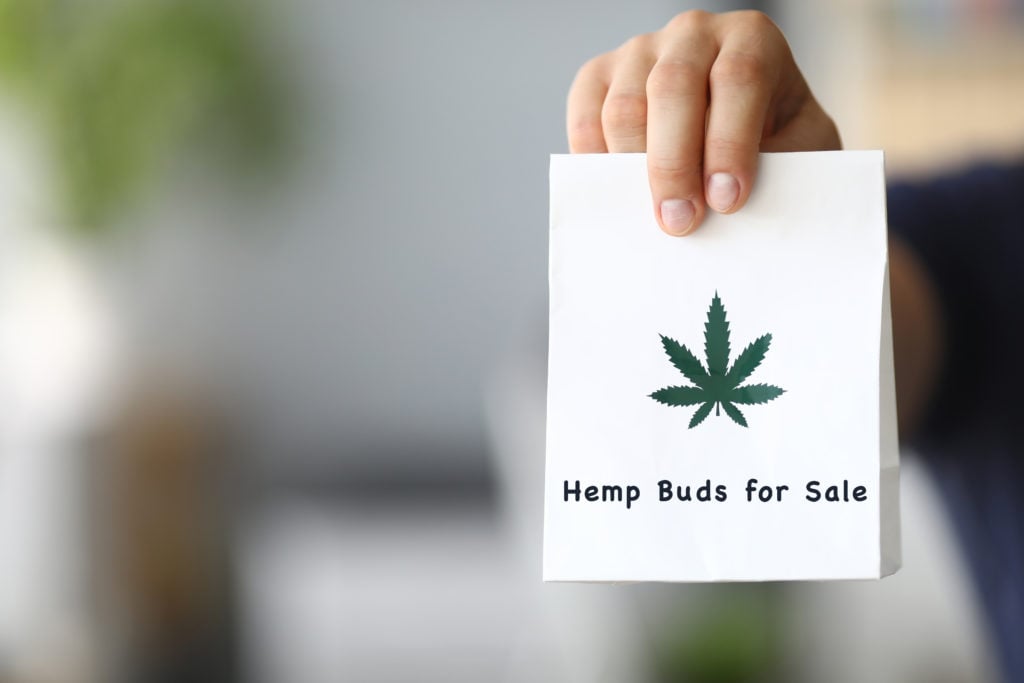 And is it legal to buy hemp flower in Alabama?
CBD hemp is both legally sold and legally grown in the State of Alabama. However, all licensed hemp growers are still technically considered to be on a 'pilot program'. The FDA still needs to grant final approval to the ADAI's submitted regulatory recommendations.
Is it legal to smoke hemp flower in Alabama?
As long as your hemp flower contains less than 0.3% THC, there are no laws or limits related to the possession of CBD products within the State of Alabama.
If anyone is found to be in possession of hemp flower containing THC content greater than 0.3%, this is considered to be a misdemeanor. This carries a fine of $6,000 and a sentence of up to 1 year in jail.
Is it legal to grow hemp at home in Alabama?
No. You cannot cultivate hemp in your backyard. Unless you are a licensed individual or organization that has received approval from ADAI and are licensed in the Alabama Hemp Program, it is illegal to process or grow hemp. It is also illegal to process any hemp, cannabis plants, or seeds without a license from the Alabama Department of Agriculture and Industries.
Where Can I buy hemp in Alabama?
Residents of Alabama are free to purchase CBD flower, including CBD pre-rolls, online as well as through any Alabama brick and mortar store that happens to carry hemp flower. Alabama pharmacies offer over-the-counter CBD products. Cannaflower™ Hemp products can be purchased at any of the following fine Alabama Establishments:
5595 S Oates St
Dothan
AL 36301
Phone: 334-803-0242
Email: [email protected]
Raley's Happy Healing
30853 Highway 43
Thomasville
AL 36784
Phone: (334) 564-7128
Legality Wrap-Up for Alabama
Indeed, the State of Alabama honors the 2018 farm bill and the legality of all CBD products that contain less than 0.3% THC.
Discover your favorite new Cannaflower™ strain. This Taster's Menu is a great way to sample some of our most popular flower!