It seems like California's "pot progressivism" has rubbed off on nearby Nevada. Although this western state wasn't the first to legalize weed, it has come a long way in recent years. In fact, as of 2017, adults in Nevada could buy, sell, and use recreational marijuana. The Silver State has a similarly golden reputation with CBD hemp fans.
If you live in Nevada, you shouldn't be afraid to order from Cannaflower's hemp catalog. Although you can't smoke hemp at the Hoover Dam, it's fine to use high-CBD products in the privacy of your home.
Nevada CBD Hemp Laws Before The 2018 US Farm Bill
Nevadans welcomed the new millennium with a brand new Medical Marijuana Program. Under Assembly Bill 453, Nevadan doctors could refer their patients to the state's Department of Health and Human Services to apply for an MMJ card. Once patients are on the Nevada MMJ Registry, they could hire the assistance of a caretaker or pick up their cannabis in a state-approved dispensary.
Sixteen years later, Carson City became "Cannabis City" when legislators approved the Initiative to Regulate and Tax Marijuana Act. As of 2017, Nevadans over 21 could legally buy cannabis from authorized dispensaries and smoke in a private residence. As for hemp legislation, 2017's SB 396 gave Nevadan farmers the right to apply for a hemp grower's license. Formerly, the only people allowed to farm industrial hemp were those involved in university-backed research. Anyone interested in growing hemp in Nevada must work with the state's Department of Agriculture.
Nevada CBD Hemp Laws After The 2018 US Farm Bill
Considering Nevada legalized marijuana in 2017, you could say hemp became legal at the same time. After all, both marijuana and hemp are variants of the Cannabis genus. However, it wasn't until 2019 that Nevada's State Capitol formally legalized recreational hemp goods with SB 209.
If you're familiar with the 2018 US Farm Bill, then you already know the basics of Nevada's SB 209. Provided hemp products have ≤ 0.3 percent delta 9 THC, they are legal for recreational use.
Nevada CBD Hemp Laws FAQs
So, Is It Legal To Grow Hemp In Nevada?
The Nevada Department of Agriculture now offers three "certificates" for those interested in joining the industrial hemp industry. In addition to a grower's license, people could apply for separate seed producer or handler permits.
Farmers who want a Nevada hemp grower's license must submit a non-refundable $500 fee plus $5 per acre of outdoor farmland. If you're growing indoors, you'll have to pay $0.33 per 1,000 square feet. The Department of Agriculture also asks prospective growers to send detailed info on their farm and a criminal background check. Anyone interested in learning more about Nevada's hemp cultivation application process should visit this official website.
Is It Legal To Sell CBD Hemp Flower In Nevada?
Whatever business you're involved in, it's legal to add hemp CBD to your Nevada store. However, you have to make sure your hemp products have ≤ 0.3 percent delta 9 THC. While marijuana products are legal in Nevada, you can only offer strains with > 0.3 percent THC if you have a state-approved dispensary license.
Is It Legal To Buy CBD Hemp Flower In Nevada?
Adults in Nevada could buy both CBD hemp flowers and high-THC marijuana throughout the state. Just keep in mind that there are purchasing limits associated with THC products. Currently, Nevada only allows residents to buy 1 oz of cannabis flower or ⅛ oz of concentrate at a time. However, if you're purchasing CBD hemp flowers, you don't have to worry about these daily limits.
Also, Nevada residents can legally purchase CBD hemp goods from online retailers like Cannaflower. Headquartered in the "ultra-green" state of Vermont, Cannaflower has quickly become one of the hottest names in the premium hemp category. See for yourself why so many cannasseurs fall in love with our delicious CBD strains. There are many sites though to explore, and some great deals to be had with a bit of research.
Is It Legal To Use CBD Hemp Flower In Nevada?
Nevada has no issue with smoking marijuana indoors, which means you don't have to worry about lighting Cannaflower's hemp joints in a private residence.
Despite Nevada's lax stance on recreational weed, you still have to keep your CBD smoke sessions semi-secret. Please never light a hemp joint outdoors, in a vehicle, or on federal territory. Although CBD is a non-intoxicating cannabinoid, police could fine you for smoking marijuana in public.
Today, the safest place to enjoy hemp and marijuana in Nevada is inside a private residence.
Is It Legal To Grow CBD Hemp Flower At Home In Nevada?
Even though Nevada legalized recreational marijuana, it has relatively tough cultivation laws. Currently, it's only legal for residents who live 25 miles from a licensed dispensary to grow marijuana at home. If you're within this zone, it's legal to grow up to six cannabis plants at a time on your private property.
At this time, there's no mention in Nevada's laws whether hemp is OK for at-home cultivation. If you're going to grow hemp at home, please know there's no explicit legislation that will protect you.
Where Can I Buy CBD Hemp Flower In Nevada?
Nevada's cannabis sector is almost as hot as its scorching desert temps. Even if you live far from Las Vegas or Reno, it's getting easier to find reputable CBD shops selling sensational hemp strains. Plus, since Nevada borders pot-friendly Oregon and California, it's not hard to "border hop" for some extra dank buds.
Also, don't forget that Nevada allows residents to order CBD products online. Indeed, Cannaflower has sent many of our artisan-grade hemp to satisfied customers in all 50 states. Whether you're looking for trichome-rich hemp flowers, convenient pre-rolls, or expertly-extracted CBD oil, you can find many lab-verified goodies on our website.For more details on all of our phenomenal hemp strains, please visit this link.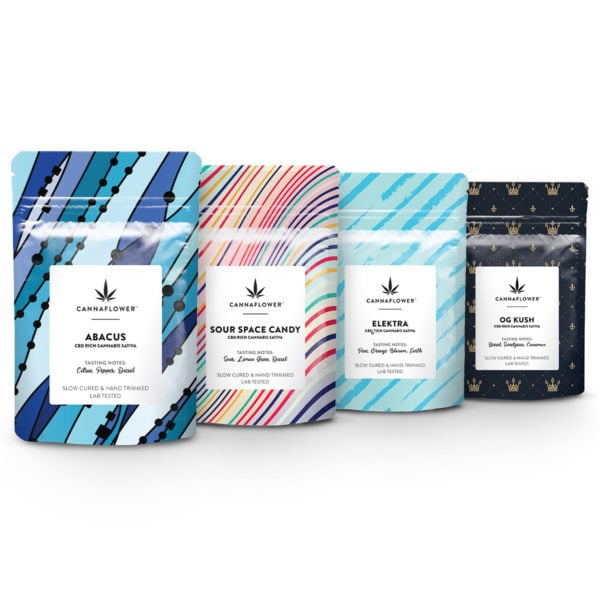 Discover your favorite new Cannaflower strain. This Taster's Menu is a great way to sample some of our most popular flower!