Although hitting the open road can be exciting and make for a lucrative career, truck driving is not without health hazards. Back pain, poor sleep patterns, and accumulated stress from driving in traffic are prevalent among truck drivers. If you make your living in a big rig, you're probably familiar with these conditions, and you've been searching for a solution. Are there safer alternatives to pharmaceutical drugs like antidepressants, benzodiazepines, and opioid painkillers?Most of us have friends or family members who swear by CBD oil for similar ailments, and you may be wondering if CBD will work for you. But could you be jeopardizing your job if you take CBD? Let's find out.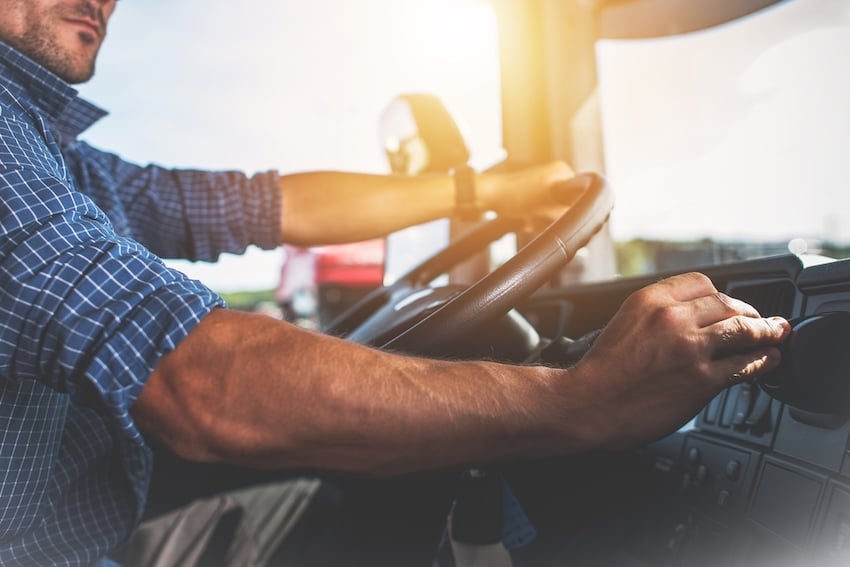 Can I Drive After Taking CBD Oil?
The answer to that question is complicated. First, you'll need to understand what CBD is and how it works.
The Science Behind CBD
Cannabidiol (CBD) is one of 120 active compounds in both hemp and "marijuana" plants. Unlike THC, the compound responsible for the "high" of traditional cannabis, CBD doesn't produce the same intense psychoactive effects.
CBD and other cannabinoids work by interacting with receptors in our body's endocannabinoid system. This system evolved over 600 million years ago and helps us maintain internal balance despite external conditions. The endocannabinoid system (ECS) is involved in regulating a range of vital functions, including:
Our emotions and moods
The way we react to pain
Inflammation and our immune responses
Maintaining a consistent body temperature
Our appetite and metabolism
Regularizing our sleep cycles
With the stresses of modern life, our endocannabinoid system can stop working as efficiently as it should. The ECS receptors respond to messages from two primary natural endocannabinoids, anandamide and 2-AG. When levels of these two compounds drop below their normal range, we can experience a host of issues. A severe lack of endocannabinoids can result in a condition called Clinical Endocannabinoid Deficiency (CECD). CECD plays a role in many stubborn illnesses, such as fibromyalgia, migraines, and irritable bowel syndrome.
Phytocannabinoids like CBD support the endocannabinoid system by stimulating the receptors and boosting anandamide and 2-AG levels.
How CBD Can Help Truckers
CBD seems to be a perfect fit for helping with many of the problems truck drivers often face.
Driving for up to 11 hours straight can get stressful, and two of the primary reasons truckers quit their jobs are anxiety and depression. CBD offers a non-intoxicating way to relax while you're on the road.
CBD could help with the insomnia that plagues many drivers. However, keep in mind that higher doses of CBD may cause drowsiness. Staying alert is vital for safety, and to avoid feeding the bears. With this, it may be better to wait until your shift's over to take your daily dose of CBD oil.
Another reason truck drivers may consume CBD is to help them stop smoking tobacco. Peer-reviewed clinical studies have concluded that smokers trying to quit reduced their cigarette consumption by 40% with CBD treatment.
Legal Concerns with Taking CBD
Since CBD exists in both hemp and cannabis plants, ongoing prohibition has made access to CBD complicated. DOT tests for all Schedule I drugs, and cannabis remains in the same category as harder drugs like heroin, cocaine, and methamphetamines.
Furthermore, state laws vary regarding cannabis and hemp-derived products like CBD. Restrictive state and local regulations can create problems for drivers passing through Nebraska, South Dakota, Iowa, and Idaho.
Driving through these states with CBD products in your truck could result in possession charges, and you could face heavy fines or even incarceration. Some states also ban smokeable hemp flower, which looks identical to traditional cannabis. To complicate matters, states with legal cannabis may sell CBD products with more than the federal limit of THC.
Will I Fail my Drug Test if I Take CBD?
Although legal, full-spectrum CBD products contain less than .3% CBD, they may trigger a false positive. Even trace amounts of THC can accumulate in the fat cells and result in a failed drug screening. If you decide to take CBD, you'll be better off choosing CBD isolates or THC-free broad-spectrum CBD products.
You'll also want to inform your employer and the testing authority that you're taking CBD. However, most MROs won't accept CBD use for medical reasons as an excuse for failing a DOT drug test.
Another complication is that the FDA has yet to approve and pass regulations regarding CBD products. The lack of FDA regulation may mean that the CBD product you buy has more than the amount of THC it says on the label. On February 18, 2020, the U.S. Department of Transportation (DOT) issued a notice warning truck drivers about mislabeled CBD products.
Unfortunately, mislabeling has cost some drivers to lose their jobs. Shortly after the Farm Bill passed, legalizing hemp-derived compounds, a New York truck driver filed suit against a company for mislabeling its CBD products. The driver, Douglas Horn, had been taking CBD to manage chronic pain from an injury he incurred in an accident. He was hoping for a safer alternative to opioid-based pain-relievers. Instead, he lost his employment of 10 years for failing a drug test.
Suppose your CBD use causes you to fail a drug screening for marijuana. You'll risk losing your Commercial Driver's License (CDL), and you'll be required to pass an evaluation by a DOT-accredited substance abuse professional and possibly have to complete a recovery program to regain your driving privileges.
Conclusion: Can You Use CBD as a Truck Driver?
CBD may help provide a host of benefits for truck drivers, but you'll need to decide if the benefits outweigh the risks. If you do choose to take CBD, you would be wise to buy zero-THC products from a reputable supplier that submits each batch for rigorous lab testing and provides official Certificates of Analysis (COA). The COA will prove that the products are actually THC-free. Drivers should always keep a copy of the COA with the CBD to avoid misunderstandings with law enforcement.

Whatever you decide is best for your health, we wish you clear skies, smooth roads, and good numbers.
Cannaflower's Broad Spectrum CBD softgels contain zero THC. Explore the menu, and rest assured that every product is lab tested with COAs for your purchase.