California has always been at the cutting edge of cannabis culture. Even at the height of "reefer madness," Cali cultivators were able to create some of America's most beloved hybrids. With such a long association with cannabis cultivation, it's no surprise the Golden State has some of the most relaxed CBD hemp laws.
Since 2016, Californians over the age of 21 could legally purchase recreational cannabis. This new provision includes high-CBD products like tinctures, oils, and hemp flower. While you cannot smoke hemp or marijuana in public, residents could legally enjoy their favorite high-CBD strains at home.
While California's CBD hemp laws are pretty straightforward, there are a few restrictions customers need to look out for. Keep reading to find out the latest legislation surrounding high-CBD hemp.
California CBD Laws Before The 2018 Farm Bill

1996 was a pivotal year for cannabis legalization. This year, Californians passed the first successful ballot for medical marijuana in the USA. Often called the "Compassionate Use Act," Proposition 215 created California's Medical Marijuana Identification Card Program (MMICP), which is a branch of the California Department of Public Health (CDPH).
Anyone over the age of 18-years-old with a qualifying medical condition could apply for an MMJ card in California. Patients or caregivers interested in joining California's Medical Marijuana Program must reach out to their local public health department. You could find a full list of county offices on this CDPH website.
Two decades after California established its Medical Marijuana Program, voters legalized adult-use recreational marijuana with Proposition 64. Formally called the "Control, Regulate and Tax Adult Use of Marijuana Act," this proposition legalized the sale, cultivation, and use of cannabis to Californians over 21.
In addition to legalizing recreational marijuana, Prop 64 enacted California's Industrial Hemp Farming Act (aka SB 566). In 2017, the state formally allowed farmers to apply for hemp cultivation licenses with their local counties. California also created an Industrial Hemp Advisory Board to help facilitate hemp cultivation.
California Hemp Laws After The 2018 Farm Bill

Not much has changed in California's cannabis laws since the passage of the 2018 US Farm Bill. Both California and the US Federal Government agree that hemp should be defined as containing ≤ 0.3 percent THC. California's Department of Food and Agriculture (CDFA) takes great care to analyze hemp crops before farmers can send them to manufacturers.
The only major piece of legislation that emerged post-2018 was Assembly Bill 228. According to this failed bill, manufacturers could add CBD extract to products like edibles and cosmetics. Opponents of this bill want to see more data out of the FDA to confirm CBD is safe for use in food. Since AB 228 has yet to become law, it's technically illegal for Californians to manufacture CBD edibles and infusions.
California Hemp Regulations FAQs

So, Is It Legal To Grow CBD Hemp In California?
If farmers want to grow hemp in California, they must reach out to their county's agricultural commissioner. Even though the CDFA has an Industrial Hemp Program, there's no state-wide licensing procedure. Applying for a hemp growing license still takes place on a county-by-county basis.
Compared with other states, California's Industrial Hemp Program is simple to understand. You can find forms for hemp cultivation on the CDFA's Industrial Hemp Program portal. Simply fill in the info and send it to your county's agricultural commissioner. Each application costs $900.00, which covers one year of cultivation.
Please keep in mind that not all California counties allow industrial hemp cultivation. Be sure to review your zone's hemp requirements before filling out any paperwork.
Is It Legal To Sell CBD Hemp Flower In California?
California allows state-approved dispensaries to sell both marijuana and hemp flower. It's also legal to purchase CBD oils, tinctures, and capsules in stores throughout the state.
The only caveat to this law concerns CBD edibles. As mentioned above, the California Department of Public Health is waiting for the FDA to declare CBD a "safe" food additive. Until there's substantial evidence from the FDA, CBD edibles and infusions are technically illegal in the state.
Is It Legal To Buy CBD Hemp Flower In California?
Adults in California could legally purchase hemp flower at state-approved dispensaries or online. Just keep in mind that you must be 21 or older to buy marijuana flower in the state. Although hemp and marijuana are distinct cannabis variants, store vendors won't sell their high-CBD flowers to anyone under this age.
It's also worth noting that California has strict limits on how much cannabis adults could purchase per day. Currently, customers are only allowed to buy 28.5 g of cannabis flower or 8 g of cannabis concentrate. Medical marijuana patients, however, could buy up to 8 oz of cannabis per day.
While there aren't purchasing limits on CBD hemp flower, it's good to keep these numbers in mind when ordering your stash. Since hemp and marijuana look similar, you could potentially run into an issue with the law if you're caught carrying over one ounce of hemp flower.
Is It Legal To Smoke CBD Hemp Flower In California?
Californians over 21 could legally smoke hemp flower in the privacy of their home. While there's no law banning people from smoking hemp outdoors, the state forbids smoking or vaping marijuana in public. So, for the moment, it's best to avoid lighting a hemp joint near businesses, schools, or parks.
Speaking of parks, please remember that marijuana is still technically illegal on federal soil. This means you could face severe penalties if you take cannabis into one of California's many state parks. Since park rangers can't tell the difference between hemp flower and marijuana, it's best to keep your hemp at home before heading out for a hike.
Is It Legal To Grow Hemp At Home In California?
Currently, California's stance on at-home hemp cultivation is murky. Even though California allows adults to cultivate up to six marijuana plants indoors, a few state statutes claim residents cannot grow industrial hemp on their premises.
For your safety, we don't recommend planting hemp on your property without a license from the CDFA.
Where Can I Buy Hemp In California?
As one of America's most pot-friendly states, it's not too difficult to find stellar CBD shops throughout Cali. However, that doesn't mean Californians have to rely on whatever strains are "in season" at brick-and-mortar stores. Golden State residents could also legally purchase hemp flowers from professional online vendors like Cannaflower.
Over the past few years, Cannaflower has sent artisan-grade hemp flowers all across North America. We promise all of our premium products have been third-party verified to contain no more than 0.3 percent delta-9 THC. If you have any questions about ordering from Cannaflower's portfolio, please don't hesitate to drop us a line at [email protected]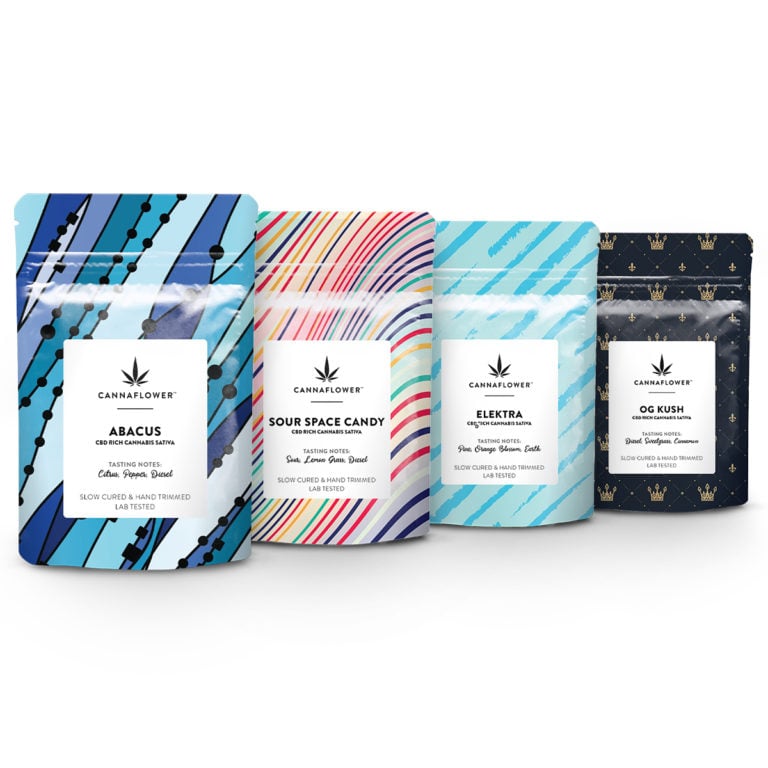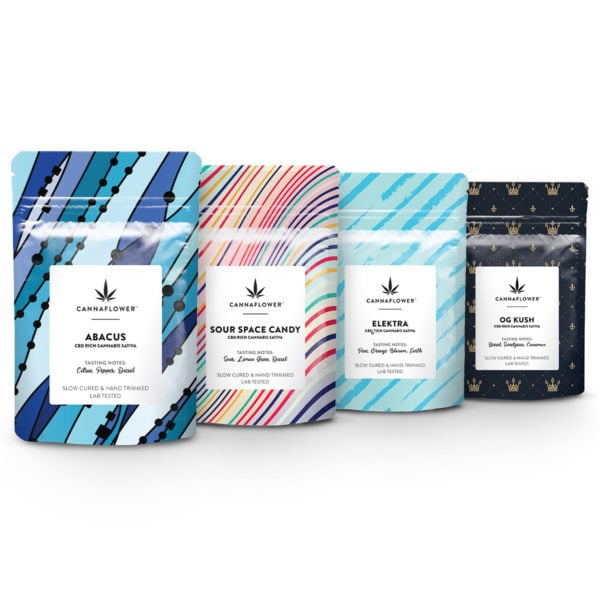 Discover your favorite new Cannaflower strain. This Taster's Menu is a great way to sample some of our most popular flower!