Storing Hemp Flower
Let's talk about the best storage for cannabis; this topic can elevate your entire experience. There is a lot that goes into properly preserving cannabis flower. There are right and wrong ways to store cannabis flower, whether it be marijuana or artisan hemp flower. Stored correctly, CBD rich hemp flower can have a long shelf life as long as you follow these simple guidelines.
Before you can properly store cannabis, it requires proper curing. Once harvested, trimmed (either dry or wet trim), and cured, CBD hemp flower is ready for storage. The cured flowers should be completely dry to the touch. Adequate drying before storage is imperative to properly storing it long-term.
Colored Mason Jars – Not Plastic Bags

When it comes to storage for your cannabis—as well as performing a proper, slow jar cure—Mason jars are necessary. Let's assume you didn't grow your CBD rich hemp flower but purchased a large quantity of it instead. When you buy it, your flower should be at an appropriate dryness, and all that's necessary to have on-hand are the jars in which to store them.
The best storage for cannabis truly is in finding simple perfection. Quality hemp vendors, like Cannaflower, say that they take great strides to ensure that any hemp flower they send out to consumers has been perfectly cured and stored to be delivered in the optimum state. But what about once it's received – what's the best way to preserve all the care that has gone into it?
Although many people store cannabis flower in plastic bags, Mason jars provide a superior vessel for storage. Plastic bags can easily become damaged, and small holes can result that allow air into the bag—and you want your flower-storage vessel to remain sealed from outside air.
The problem with using plastic bags is that they are rough on flowers, which are actually quite delicate. Finding the best storage for cannabis protects these delicate features. Cannabis flower is covered in cannabinoid rich trichomes, and the aroma of the flowers is testament to the bountiful terpenes present. You want to preserve both of those compounds as much as possible. Once flower is stored in bags that are opened and closed often, you can actually see a coating of the trichomes clinging to the inside of the bags. You want these terpenes to remain on the flowers—not on the interior surface of the bags.
Beyond Jars: Light Considerations
Protect your cannabis with thoughtful storage! Mason jars do not damage flowers like bags will. Stored improperly, CBD hemp flower will soon begin to degrade if exposed to air or UV light. For this reason, storing flower in wide-mouth, colored, quart-sized Mason jars is the best choice. The colored glass—often brown or green—does not allow as much damaging UV to come into contact with the flowers within. This is similar to beer bottles. Clear glass beer bottles are inferior to colored bottles for beer preservation, which is why so many of them are green or brown.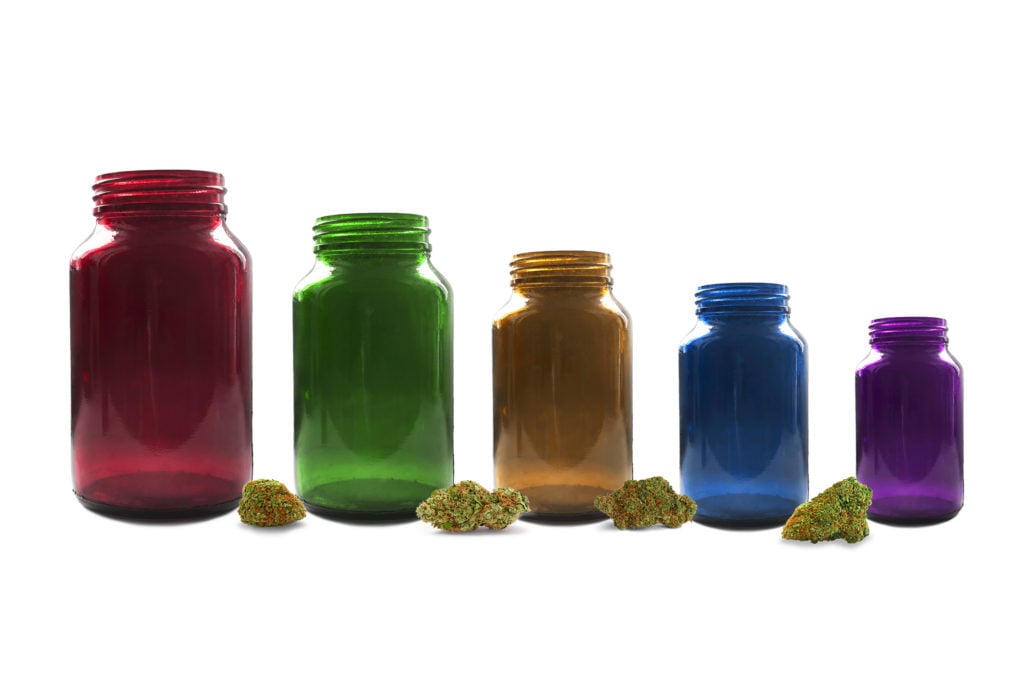 A Word About Moisture

Ideally, storage for your cannabis – hemp flower should retain 59- to 62-percent moisture. Small humidity packs made by either Integra or Boveda will retain the proper moisture levels inside the jars. Both companies sell humidity packs at either 59- or 62-percent humidity level, and most cannabis connoisseurs want their flower to remain in this range. These packs are not mandatory, but do serve a valuable purpose for long-term proper storage.
Store your jars in a cool, dark place, and your potent CBD-rich hemp flower will remain fresh until you are ready to use it.
Discover your favorite new Cannaflower strain. Explore our menu today!