With all of the potential benefits of CBD, it's no wonder that consumers are turning to CBD hemp flower products for both enjoyment and well-being. Cannaflower is one of the leading manufacturers of high-quality, organic hemp flower products. This Summer, whether you're looking to increase productivity, ease social anxiety, or soothe sore muscles, Cannaflower has you covered.
Here are some of the best hemp flower products you should try and why.
Best Hemp Flower Product to Get a Restful Night's Sleep
Problems with getting sufficient rest are becoming more and more prominent with our fast-paced modern lives. According to the American Sleep Association, 50 to 70 million adults struggle with a sleep disorder of some kind. Many more Americans wrestle with milder or occasional sleep-related problems.
Although you should always consult with a trusted medical professional if you have a serious condition, research has concluded that CBD can help improve the quality of sleep. Here are some of the best hemp flower products to improve rest and rejuvenation.
Rest Full-Spectrum CBD Oil
Cannaflower's Rest Full-Spectrum CBD Oil was designed to help you wind down in the evenings and get a good night's sleep. Cannaflower's full-spectrum CBD oils contain a single hemp hybrid so that you can get the distinct benefits of the strain's individual terpene profiles.
Cannaflower's Rest CBD oil features the hemp flower strain Ceiba, which is abundant in calming terpenes like myrcene and borneol. Additionally, Cannaflower's Rest CBD oil formula has been flavored with delicious organic chocolate and soothing mint to enhance the product's relaxing effects. Rest Full-Spectrum CBD Oil is available in 375 and 750-milligram bottles.
If you prefer to smoke hemp flower to unwind, you may want to try Cannaflower's Rest Pre-Rolls, which feature the same tranquil terpenes as the full-spectrum CBD oil.
Bubba Kush Hemp Flower
Indica-dominant Bubba Kush is the ideal hemp strain to enjoy before drifting off to sleep at night. This relaxing hemp hybrid delights the senses with a sweet earthy base accented by hints of coconut and coffee. Consumers can buy Cannaflower hemp strains in packages ranging from one gram all the way up to a full ounce.
OG Kush Hemp Flower
Another classic indica-dominant strain, OG Kush is a mellow hemp flower hybrid that's ideal for evening use. OG Kush's dense green and purple buds feature high-CBD levels with only .16% THC. The dominant terpenes in OG Kush provide earthy and nutty undertones with hints of spicy cinnamon, making the strain a delicious after-dinner treat.
Vaping360.com chose Cannaflower's OG Kush for First Place in its list of the best indica CBD strains of 2020. Reviewers on the site awarded Cannaflower's OG Kush with a 9.8-star rating out of ten.
Best Hemp Flower Product for Daytime Productivity
Staying productive and calm during the daytime is on the top of many people's wish list. Let's take a look at some of the best hemp flower products for workday energy and motivation.
Elektra Hemp Flower
Elektra hemp flower has become a legend for its uplifting and energizing effects. This sativa-dominant hemp hybrid combines citrus aromas with hints of clove to elevate the mood and give consumers a little extra get-up-and-go for daytime activities. Myrcene, alpha-pinene, and beta-caryophyllene terpenes give the strain a sweet, earthy flavor with hints of pine and black pepper to refresh the mind and calm the spirit. According to DailyCBD.com, who gave Cannaflower a 5/5 rating, Elektra imparts "pleasant effects for daytime use."
Cannaflower's Daytime Hemp Flower Collection
Cannaflower's Daytime Collection combines the power of three upbeat hemp hybrids. Each Daytime Collection features individual 3.5-gram packages of each strain, including:
Frosted Lime: Frosted Lime's uplifting citrus flavor and sativa genetics will have you motivated to tackle some of those long-term projects. The strain produces an energizing calm that's perfect for daytime activities.
Sour Space Candy: As the name suggests, Sour Space Candy can provide the rocket fuel to propel you into a productive day. Sour Space Candy's sweet-tart tropical flavors evoke youthful memories and have made this hybrid one of the most popular daytime hemp flower strains.
Lifter: Sativa-dominant Lifter is the hemp flower strain many people reach for when they're feeling low. This popular strain never fails to elevate the mood and inject a bit of inspiration into even the dullest of days. Dominant terpenes such as limonene, humulene, and linalool give the strain strong citrus and spicy notes with a hint of fragrant lavender.
Best Hemp Flower Product for Soothing Aches and Pains
Common muscle aches and joints can make it challenging to go about both work and recreational activities. While CBD products are not meant to be a cure for any medical condition, CBD may help ease everyday aches and pains in several ways.
Preliminary studies have shown that CBD inhibits the early stage inflammation that often accompanies joint aches and pains. Other studies concluded that CBD might have therapeutic value as a treatment for neuropathic pain. It's always important to visit your doctor if you're experiencing persistent pain. After asking your physician if CBD is right for you, you may want to try some of the following hemp flower products.

Relief Full-Spectrum CBD Oil
Packed with terpenes from Hawaiian Haze hemp flowers, Cannaflower's Relief Full-Spectrum CBD Oil offers physical relaxation without making you feel drowsy. These properties make this oil perfect for feeling free from pain. Many customers share they use this oil to help them get through tough physical jobs, or for feeling relief at work, and before bed.
Created with the Hawaiian Haze strain, reports share it provides therapeutic levels of humulene, beta-caryophyllene, and alpha-pinene to help ease aches and pains while you go about your daytime activities. Each bottle of Cannaflower's Relief Formula contains 15 milliliters of full-spectrum CBD oil with either 375 and 750 milligrams of CBD and features a delectable chocolate mint flavor.
Remedy Hemp Flowers
Remedy Hemp Flowers are renowned for providing full-body relaxation. Remedy's unique terpenes provide hints of mandarin and juniper. The strain's balanced levels of myrcene, beta-caryophyllene, and alpha-pinene make it an excellent choice for refreshing the body, mind, and spirit after a long day. Remedy's expertly trimmed, light green buds feature a soothing pine and citrus aroma. Remedy is available in packages from one gram to one ounce. For more information, check out our review of Remedy.
Best Hemp Flower Product for Easing Stress and Tension
Combatting stress and tension is one of the number one reasons consumers choose CBD hemp flower products. You should always see your physician if you suspect that you have a serious anxiety disorder. However, several studies have concluded that CBD has potent anxiolytic effects and may be used in the future for the treatment of anxiety-related disorders. For now, here are some of our favorite hemp flower products to help you relax and ease stress and tension.
Calm Full-Spectrum CBD Oil
Cannaflower's Calm Full-Spectrum CBD Oil features high concentrations of limonene, beta-caryophyllene, and linalool—the spa terpene. These terpenes impart a soothing calm with an uplifting citrus and lavender fragrance and just a hint of spice. On top of all of that, Calm is infused with an all-natural chocolate-mint flavor for a truly unique tasting CBD oil.
Cannaflower Calm Pre-Rolls
Life is unpredictable. When acute stress strikes, sometimes oils and tinctures can seem like they take an eternity to kick in. Cannaflower's Calm Pre-Rolls provide the same benefits as our Calm Full-Spectrum Oils.
Calm's terpene profile features soothing myrcene and spicy beta-caryophyllene to have you feeling relaxed yet alert in no time. Cannaflower's pre-rolls come in tins of five pre-rolled premium hemp flower joints, so you can be prepared for any of life's little twists and turns.
Instash selected Cannaflower's pre-rolls for its distinguished list of the "5 Best CBD Pre-Rolls in 2020."
Rest and Mindfulness Hemp Flower Collection
For those of you who prefer to roll your own hemp flowers, smoke them in a pipe or bong, or make homemade edibles, Cannaflower offers its Rest and Mindfulness Hemp Flower Collection. The collection features three stress-busting, high-CBD hemp hybrids:
Sativa-dominant Hawaiian Haze for taking the edge off of workday tension
Abacus for relaxed evening activities
Indica-dominant OG Kush for drifting off to dreamland.
Best Hemp Flower Products for Work
While the relief and mental focus that low-THC hemp flower brings may help at the office, it's not always convenient to light up at work. The CBD industry certainly has you covered.
Oils and softgels arrived on the scene right after the 2018 Farm Bill passed. Many celebrities and individuals quickly started incorporating CBD into their lifestyle as well as starting their own lines of products. Indeed, even the ever-industrious Martha Stewart celebrates the benefits of CBD (perhaps due to her friendship with Snoop Dogg) in helping her work such long hours.
While we certainly hope that your time at the office isn't long, let's check out some of the best hemp flower products that can make each day more peaceful and productive.
Cannaflower CBD Softgels
Cannaflower's has worked for years to develop a formula that preserves as much as the plant as possible. Customers love their softgels for reducing inflammation, elevating their mood, and helping them sleep well after a long work day.
Many appreciate that softgels provide an exact way to measure dosage. While smoking hemp flower still is the most efficient delivery method, monitoring how much is in your body may be useful while at work.
Best Hemp Flower Products for Mental Focus
Many consumers choose high-CBD hemp flower products for enhancing creativity and mental clarity. But did you know that CBD may have even more profound benefits for the brain and nervous system?
Several recent studies have concluded that CBD works in a variety of ways to protect the neurons and may be a potential future treatment for neurodegenerative disorders like Alzheimer's and Parkinson's diseases. Medical science still has a long way to go to confirm the extent of CBD's neuroprotective capacities. For now, let's check out some of the best hemp flower products to enhance mental focus and spark your imagination.
Lemon Drop Hemp Flower
Lemon Drop Hemp Flower contains the perfect combination of terpenes to achieve greater mental focus. Refreshing limonene adds a sense of alertness and a delightful citrus aroma. Pinene, a terpene found in rosemary, parsley, and evergreen trees, is famous for its potential to aid in memory retention and concentration through helping to reduce oxidative stress.
Cannaflower Lift Pre-Rolls
Convenient Lift Pre-Rolls give you just the right amount of mental stimulation exactly when you need it. Enjoying lift pre-rolls can be the perfect pick-me-up for when energy starts to fade after your lunch break. Each decorative tin contains five expertly wrapped pre-rolls, each containing an entire gram of hemp flower with 150 milligrams of CBD.
LoudCloudHealth.com selected Cannaflower's Lift Pre-Rolls for its list of the 8 Best Pre-Rolls that Will Brighten Your Day and Night."
Best Hemp Flower Products for Elevating the Mood
Once in a while, we all have times when we need a little external boost to get us through a gloomy mood. Cannaflower offers several hemp flower products for when you need to inject some sunshine back into your outlook on life.
Joy Pre-Rolls
Even the appearance of Joy's compact buds is cheery with bright shades of green and orange. Cannaflower's Joy Pre-Rolls make enjoying the strain convenient for a quick pick-me-up when you're feeling a little down. Joy has a spicy terpene profile with high concentrations of alpha-pinene and beta-caryophyllene.
According to one Reddit review, the taste of Cannaflower's Joy is "phenomenal…I wish I had a piece of candy that tasted just like this." The reviewer goes on to explain the effects: "The effects are spot on with the description of the Joy strain. [I'm] feeling centered, relaxed, and super clear-headed with a slight boost in energy/motivation."
Sour Dog Hemp Flowers
You'll be smiling like a puppy with a fresh bone after you partake of Cannaflower's uplifting Sour Dog Hemp Flowers. An exotic cross between Sour Space Candy and Chemdawg, sativa-dominant Sour Dog surprises the taste buds and ignites the imagination. Sour Dog Hemp Flowers exude a rainbow of sweet fruit flavors and a pungent diesel aroma that's sure to brighten up any cloudy day.
Best Hemp Flower Product for Unique Benefits
Some hemp flower products offer unique benefits to consumers. Here are a few of our favorites.
White CBG Hemp Flowers
White CBG Hemp Flowers offer consumers the chance to take advantage of the benefits of another useful cannabinoid, cannabigerol (CBG). CBG, often called the "Mother of All Cannabinoids," has been shown to have many of the same benefits of CBD plus a few added ones. CBG may be especially useful as a non-psychoactive treatment for the excess intraocular pressure associated with glaucoma.
CBG is a precursor to other cannabinoids, including cannabidiol (CBD), cannabichromene (CBC), and tetrahydrocannabinol (THC). Typical hemp and cannabis plants contain extremely low levels of CBG as the compound is quickly converted to other cannabinoids as the plant matures. Previously, consumers could only get the benefits of CBG by purchasing costly extracts. These days pioneering hemp farmers like Cannaflower have succeeded in producing hemp hybrids with high levels of CBG through a combination of selective breeding and early harvesting techniques.
Indoor Hemp Flower Strains
Growing hemp indoors allows farmers to create small batches of ultra-premium hemp flowers with denser buds and higher cannabinoid and terpene counts. The CBD Benefits.com listed Cannaflower's indoor hemp flowers as one of its favorite "Top Shelf CBD Flowers."
Cannaflower currently offers three potent and delicious indoor hemp flower strains, including:
Berry Cobbler: Berry Cobbler has all the qualities that herb connoisseurs look for in a hemp flower strain. The tight green buds feature a complex terpene profile with high levels of myrcene, humulene, and bisabolol. The result is a lip-smacking sweet cherry and blueberry flavor that you'll want to enjoy over and over again.
Lemon Drop: With its combination of citrus notes and refreshing pine, indoor-cultivated Lemon Drop entices hemp lovers. You'll want to try this hemp flower strain with a dry herb vaporizer to fully appreciate the subtleties of its one-of-a-kind flavor. According to the reviewer at TheCBDBenefits.com, "Lemon Drop makes me feel cheerful, friendly, and lively."
Sour Tsunami: A classic high-CBD hemp hybrid, Sour Tsunami was originally created by famed breeder Lawrence Ringo of Humboldt County. Sour Tsunami is one of the strains MMJ doctors often recommend for easing mental stress and muscle tension. Cannaflower's indoor version takes the strain to a new level with compact, trichome-rich buds with a delightful diesel aroma. The expert reviewer at TheCBDBenefits.com remarked that Cannaflower's Sour Tsunami "calms my nerves and also offers some pain relief."
Why Choose Cannaflower Products?
Cannaflower adheres to a number of practices that consistently place the company at the top of the hemp and CBD industry.
Organic Farming Processes
Cannaflower remains committed to organic farming processes and adheres to the kind of detailed treatment worthy of boutique-grade hemp flowers. The brand grows all of its hemp flower on a small family farm in New England, where they remain fully compliant with state regulations for organic hemp farming.
Small-Batch Hemp Flowers
Family farms producing small batches can provide hemp plants with the kind of care needed to make truly exceptional premium hemp flowers. Large industrial hemp farmers simply don't have the resources to attend to each individual plant in the same way that farms like Cannaflower can. Each batch of Cannaflower hemp flower is slowly cured for eight weeks in glass jars, and each individual bud is lovingly trimmed by hand.
Transparency
Cannaflower is one of the few companies that transparently displays Certificates of Analysis for all of their products directly on the website. While many companies bury their lab results or don't provide any at all on their sites, Cannaflower provides prominent links to each COA from all product pages. Cannaflower customers won't have to go digging to find out the specs of each product they buy.
Outstanding Customer Service
Cannaflower matches the exceptional quality of its hemp flower products with distinguished customer service. The company offers perks like free shipping on all orders over $50 and guaranteed delivery. Cannaflower excels in discreet delivery practices like heat-sealed packages that are then double-bagged and packed in a plain box with neutral labels.
Reviews of Cannaflower
Daily CBD Review of Cannaflower
As we mentioned earlier, DailyCBD.com has given Cannaflower a 5-star rating across the board. The company earned a perfect score in all categories, including:
Mission/Charity
Hemp Source
Product Range
Innovation
Safety
Customer Service
According to Daily CBD reviewers, Cannaflower delivers "some of the best hemp flower we've tried yet."
LoudCloud Health Review of Cannaflower Pre-Rolls
Loud Cloud Health gave Cannaflower a 9.9-leaf rating for the company's Lift Pre-Rolls. The review remarked that Cannaflower's Lift Pre-Rolls are "perfect when you want to increase energy and improve your creativity and mood quickly." The reviewer went on to state that "Cannaflower (formerly Berkshire CBD) is one of the best providers of CBD pre-rolls."
Observer Review of Cannaflower
Observer magazine chose Cannaflower as one of the three top CBD hemp flower brands. According to Observer, Cannaflower is "undeniably a solid hemp brand" and a "great option for anyone looking to get an all-natural CBD experience without breaking the bank."
Keyto Cannabis Review of Cannaflower (formerly BerkshireCBD)
KeytoCannabis.com touted Cannaflower as a "solid choice for beginners [who] need guidance in choosing the best hemp strains." The reviewer went on to say, "Even when we looked behind the scenes, we were impressed with [Cannaflower's] products."
Hemp Tree CBD Review of Cannaflower
HempTreeCBD.com gave Cannaflower yet another rave review. According to Hemp Tree CBD's reviewer, "The flowers have excellent taste, and each puff gives you clean and pure flavors." The site also commented on the company's customer service, "There's always someone ready to help you out when you have questions, and you can easily contact them through phone or email."
If you're looking for the best hemp flower product to suit your needs, don't hesitate to contact us here at Cannaflower. You can see for yourself how we consistently deliver some of the best premium hemp flower products available.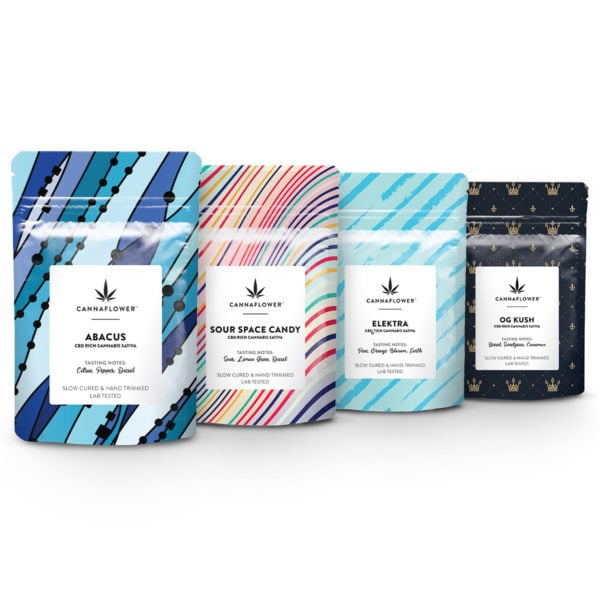 The world's best CBD hemp flower straight to your door.
Resources