If you're feeling groggy and hate coffee, Green Crack might have something to offer. No, we're not referring to literal cocaine — we're talking about a marijuana strain!
Created sometime in the 1990s, Green Crack has made a big impression on American cannabis culture. As an unabashed sativa hybrid, this strain doesn't hold back with "wake & bake" head-buzz effects. While this may be great news for sativa fans, please know that Green Crack can easily trigger side effects if you're not careful with your dosage.
Green Crack Strain Overview
Likely created by the breeder Cecil C. in Ohio.
A cross of Skunk #1 and Afghani
35/65 indica-to-sativa ratio.
25 percent average THC
≤ 1 percent average CBD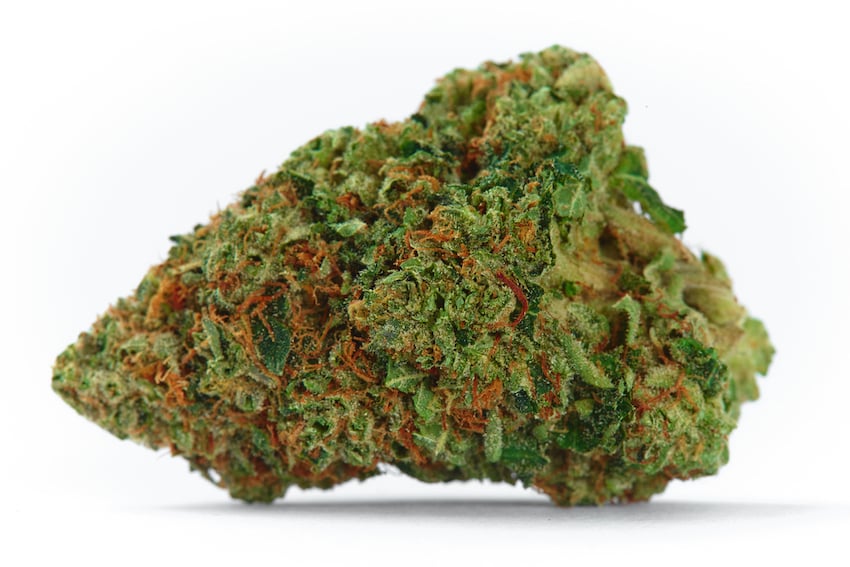 Green Crack Origins
There are many rumors surrounding Green Crack's origins, but most center around an Ohio-based breeder named Cecil C. Interestingly, the first batches of Green Crack weren't known as "Green Crack." Instead, people who got this strain in the 90s called it "Green Cush," likely as a nod to the hybrid's creator.
So, why don't we call this strain "Green Cush" today? If you believe the online legends, the rapper Snoop Dogg got his hands on superb Green Cush nugs and instantly re-branded it as "Green Crack." However, it's also likely more people just started referring to this strain as Green Crack as they experienced its addicting & energizing properties.
The genealogy on Green Crack is a bit murky, but most people agree Skunk #1 is central to its identity. It's also likely traces of Afghani landraces play a role in Green Crack's flavors, appearance, and effects.
Over the years, Green Crack has cemented its status as one of the most decorated sativa-leaning hybrids in the industry. Indeed, this strain is still a poster child for "wake & bake" pot. The most prestigious award Green Crack has won is for "Best Sativa" at the 2015 Denver High Times Cannabis Cup.As you might imagine, THC levels are incredibly high in most Green Crack cultivars. Green Crack cannabis nugs typically have at least 25 percent THC with minimal CBD. Since this strain also has at least 65 percent sativa dominance, it's not a good choice for beginner tokers. If people want to experience uplifting effects without the risk of THC paranoia, it's best to stick with high-CBD hemp hybrids like those on Cannaflower.
How Does The Green Crack Strain Taste?
Due to its eye-catching name, Green Crack is more closely associated with its effects rather than its flavors. However, there are many pleasing & pungent aromatics in Green Crack flowers.
People who smoke Green Crack often report pronounced notes of citrus, mango, and earth. Of course, since this strain is a descendant of Skunk #1, you should also expect to experience some funky & musky notes. While spice isn't the predominant flavor in Green Crack strains, you may notice a few peppery or "hash-like" flavors as you taste your first batch of Green Crack.
What Are Green Crack's Typical Effects?
It's not difficult to guess how Green Crack makes people feel. Although Green Crack isn't a full-blown sativa, it has a reputation in the cannabis space for being a supreme "wake & bake" strain. The common effects associated with Green Crack are typically centered around the temples and include an energizing "head-rush" sensation.
Green Crack isn't a great strain to test out when you want to chill on the couch. While everyone has a unique reaction to cannabis, the odds are Green Crack will get rid of your fatigue rather than make you sleepy. This strain is always better for people who need help "getting stuff done" than those who want a bit of stress reduction.
Don't Go Wack With Green Crack — Start With Cannaflower's Hemp Flowers!
If you have zero experience with cannabis, then starting with Green Crack is just asking for trouble. The high THC percentage coupled with its sativa qualities make Green Crack a better fit for advanced cannasseurs who know what they're getting involved with.However, that doesn't mean new customers can't enjoy the fatigue-busting effects of hybrids like Green Crack. Many low-THC hemp flowers have solid sativa profiles and enlivening citrusy flavors. Cannaflower also put together a collection of Lift Pre-Rolls designed to create a sense of mild euphoria. Please take a few moments to review Cannaflower's sativa hemp offerings to find what will best lift your spirits.