Mixing skunk with vanilla ice cream probably doesn't sound appetizing—unless you're talking to a cannabis fan! Amazingly, the weed hybrid Ice Cream manages to fuse authentic Skunk with the sweet & creamy flavors found in a frozen dairy dessert. While Ice Cream may not be as well-known as other dessert hybrids, it has won multiple awards for its funky flavors and well-balanced effects. Anyone looking for a "comfort food" strain may want to learn more about the Ice Cream hybrid.
Ice Cream Strain Summary
• Created at Amsterdam-based Paradise Seeds.
• A mix of White Widow, Bubble Gum, and Skunk.
• 60/40 indica-to-sativa ratio.
• Average THC rate of ~ 20 percent.
• Placed second and third in two Highlife Cup Hemp Fair Awards.
Ice Cream Strain Origins
According to Paradise Seeds' breeders, the Ice Cream strain contains genetics from the famous hybrids White Widow, Bubble Gum, and Skunk. Since Skunk and White Widow lean sativa, they help balance out Bubble Gum's indica presence. Indeed, most lab reports suggest Ice Cream is just barely an indica dominant hybrid.
Ice Cream may not be as well known in North America, but it's certainly gaining the attention of cannabis critics. In 2008 and 2009, judges at the Highlife Cup Awards honored Ice Cream with silver and bronze medals. Cannasseurs most enjoy Ice Cream's mellow effects and unique mix of sweet & skunky flavors.
Although many cannabis fans claim Ice Cream is a "well-balanced hybrid," please remember this strain usually has over 20 percent THC. So, if you're not used to marijuana, Ice Cream isn't a great first choice. Instead, new tokers should search for a low-THC hemp alternative with a similar terpene profile.
Since hemp is legal under the 2018 US Farm Bill, anyone in the USA could order hemp nugs from Cannaflower's website. You can find a full assortment of our delectable CBD strains on this hemp flower tab.
What Does The Ice Cream Strain Taste Like?
Unsurprisingly, Ice Cream was named after its sugary vanilla flavor. However, this strain isn't all about the sweet stuff. Indeed, since Ice Cream has strong traces of Skunk, you should expect plenty of dank and cheesy aromas. Some tokers also report a pleasant undercurrent of earthiness and pine in their Ice Cream nugs. So, if you're curious about mixing some creamy vanilla bean with traditional weed flavors, Ice Cream should satisfy your cravings.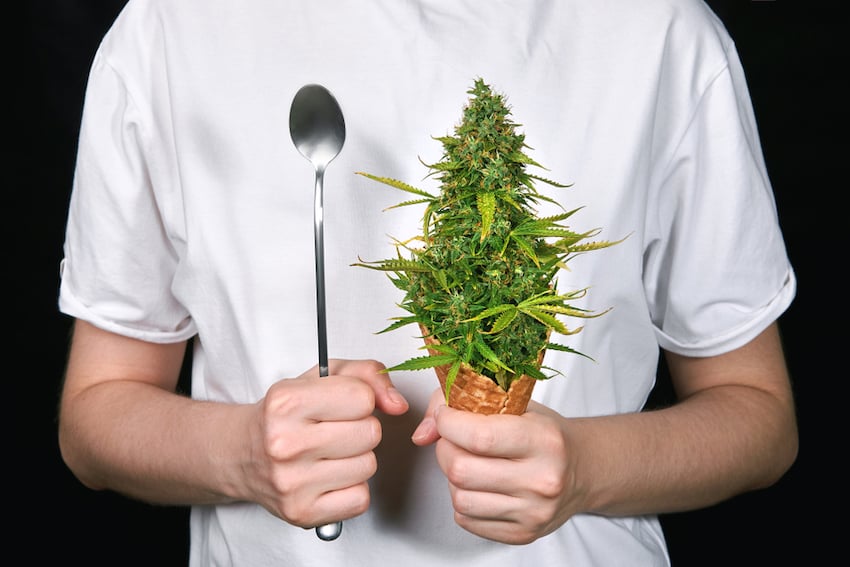 What Are Ice Cream's Standard Effects?
Ice Cream leans on the indica side, but it's not a heavy couchlock strain. In fact, once you start smoking this strain, you'll likely experience "heady" sativa effects. You may feel an initial sense of euphoria that eventually transitions to a pleasant body-buzz. Ice Cream may be sedating in high doses, but the high sativa presence should give you enough focus for a chill party atmosphere.
Switch From Weed Ice Cream To CBD Sherbet!
You don't need to have a high THC tolerance to enjoy an ice cream-themed hybrid. Indeed, Cannaflower now offers the delicious strain CBD Rainbow Sherbet in our hemp flower catalog. While Rainbow Sherbet is tangier than Paradise Seeds' Ice Cream, it provides a similarly sweet and smooth experience. Plus, with its high CBD percentage, Rainbow Sherbet promotes relaxation without intoxication.
Please click this link to find out more about Cannaflower's CBD Rainbow Sherbet.