Sherbet is arguably the most influential GSC hybrid strain. Sure, plenty of GSC descendants could stand on their own—but the Sherbet strain inaugurated a whole new category of cannabis flowers! Indeed, Sherbet-themed hybrids are a significant part of California's recent "dessert strain renaissance." Tokers who want to experience this sweet & creamy sensation have to scope out a stash of original Sherbet nugs. 
Sherbet Strain Summary
Created by Mr. Sherbinski in the San Francisco Bay Area.
A mix of Pink Panties and Girl Scout Cookies.
85/15 indica-to-sativa hybrid.
Average THC content of 15 – 19 percent.
Placed third in the 2017 Amsterdam Cannabis Cup.
Sherbet Strain Origins
The legend behind the first Sherbet strain involves a San Francisco-based breeder named Mr. Sherbinski. Allegedly, Mr. Sherbinski accidentally left a male Pink Panties plant near a female Girl Scout Cookies flower. Once these pollen sacs burst, they would create one of the most successful lines of dessert cannabis strains: Sherbet!
While you could find many offshoots nowadays, the original Sherbet should only contain Pink Panties and GSC genetics. These two strains give Sherbet a heavy indica presence as well as THC levels in the high teens. 
Many people describe Sherbet as "well-balanced," but it's far too intense for new tokers. True, the THC here isn't as high as other hybrids, but Sherbet has surprisingly potent head-rush properties. Inexperienced tokers should start their Sherbet journey with low-THC alternatives like Rainbow Sherbet. You could learn more about this Sherbet-inspired hemp hybrid on this Cannaflower link.
By the way, you may see Sherbet referred to as "Sunset Sherbet" or "Sherbet OG" in some dispensaries. Unless otherwise stated, all three of these names refer to the same strain.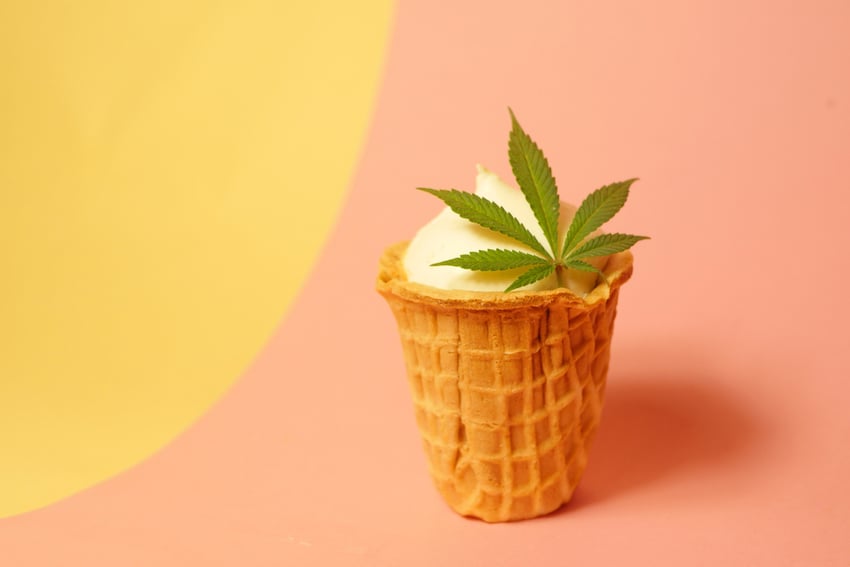 Is Sherbet As Sweet As It Sounds? — Aromas & Flavors
Sherbet is a tangier version of the equally famous Gelato hybrid. Since both of these strains have GSC genetics, they share minty, creamy, and sweet terpenes.
However, Sunset Sherbet tends to have more pronounced citrusy notes thanks to the terpene limonene. It's also possible for users to experience fruity aromatics like cherry and grape while enjoying the Sherbet strain.
What Does Smoking Sherbet Feel Like?
Given Sherbet's high indica presence, you may expect this hybrid to have a heavy couch-lock effect. Although Sherbet is often recommended for nighttime use, it has a surprisingly intense sativa presence. Indeed, it's unlikely you'll experience deep sedation when enjoying the Sherbet strain.
Sherbet's initial head-rush high lasts far longer than a standard indica, and the body-heavy effects aren't as intense as other indica-dominant strains. This even mix of head buzz and relaxation makes Sherbet a good pick for late-day stress relief, chilling with friends, or binge-watching your favorite Netflix series.
Sherbet Without Psychosis — Try Cannaflower's Low-THC Rainbow Sherbet
Since Sherbet has become one of California's most iconic dessert strains, many new customers are itching to give it a try. However, since the original Sherbet strain has high THC, it's not the best option for people with a low THC threshold. Thankfully, hemp breeders have now come up with loads of Sherbet-themed flowers that remove all the risks associated with high THC concentrations.
For instance, Cannaflower now sells the hemp strain Rainbow Sherbet. This sativa hybrid has a sweet taste and well-balanced effects, but there's no more than ≤ 0.3 percent THC. You can find out more about Cannaflower's CBD Rainbow Sherbet on this link.