Who says you need a significant other to enjoy a "slice" of Wedding Cake? No, we're not talking about a literal calorie-filled confection—we're talking about the Wedding Cake strain! Hailing from Southern California, Wedding Cake has swiftly become one of the most in-demand dessert hybrids. Tokers who enjoy curling up with a sugary & soothing strain won't have any issues lighting up the Wedding Cake hybrid.
Wedding Cake Strain Summary
Created by West Coast breeders at Seed Junky Genetics. 
A mix of the strains Triangle Kush and Animal Mints.
60/40 indica-to-sativa ratio.
Average THC content of ~ 25 percent 
Winner of 2018's "Best Hybrid Award" at SoCal's High Times Medical Cannabis Cup.
Wedding Cake Origins
Most stories surrounding Wedding Cake's origins suggest the LA-based Seed Junky Genetics created it in the 2010s. While some sites claim Wedding Cake is a mix of GSC and Cherry Pie, it's more likely this hybrid has traces of Triangle Kush and Animal Mints. Many lab reports say Wedding Cake has a slight indica dominance with an average THC content in the 20 percent range.
Allegedly, cultivators named Wedding Cake after its sweet aromatics and shiny, icing-like trichomes. However, there are a few alternative names associated with this hybrid. Indeed, if you're in the Canadian cannabis market, you may see "Wedding Cake" listed as "Pink Cookies." A few dispensaries also use the name "Triangle Mints #23" to refer to Wedding Cake.
No matter what you call it, Wedding Cake is definitely an after-dinner dessert strain. The sweet flavors combined with the indica effects make Wedding Cake ideal for relaxation after a long day. Most people who enjoy Wedding Cake use it to achieve a sense of calm just before bedtime.
However, please remember that Wedding Cake has THC concentrations of around 25 percent. If you're not used to THC, one toke of Wedding Cake will be way too intense. It's far safer for new smokers to experiment with low-THC hemp hybrids before graduating to Wedding Cake. If you're looking for a "Wedding Cake lite" experience, we'd recommend checking out a classic CBD strain like Cherry Wine. While its flavors are fruitier, Cherry Wine has a similarly relaxing effect on hemp smokers. For more info on the Cherry Wine strain, please check out this link.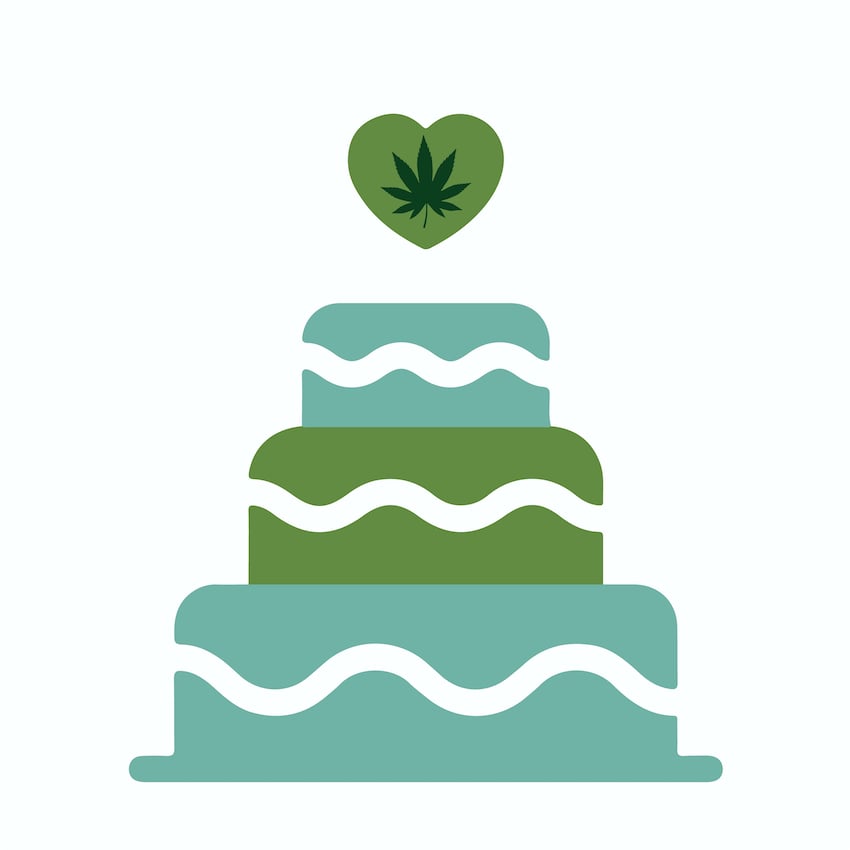 What Does Wedding Cake Look Like?
Befitting its name, Wedding Cake nugs have a delightful "drizzle" of white trichomes. Most Wedding Cake cultivars also have a few sprinkles of bright orange pistils for extra "eye candy."
As a true indica hybrid, Wedding Cake has tight, dense nugs. Wedding Cake's leaf color isn't as exceptional as its trichomes and pistils, but it usually has a subdued dark green hue.
Wedding Cake's Flavors & Aromatics
Wedding Cake is the king of dessert strains. OK, that may be an overstatement for some cannabis critics, but few will deny this strain's impact on Cali's after-dinner cannabis catalog. There are now dozens of descendants that use Wedding Cake's sugary terpenes to their advantage.
Similar to a real cake, Wedding Cake has heavy traces of dough, sugar, and vanilla. Some tokers also pick up hints of earthiness, nuttiness, and fruitiness as they indulge in this flavor-forward strain. Some people experience a touch of spicy pepper on the exhale, but most smokers claim Wedding Cake has a refreshingly smooth feel.
What Are Wedding Cake's Effects?
Standard indica effects predominate in Wedding Cake, but they aren't as heavy as strains like Northern Lights. Indeed, it's likely users will experience a slight head buzz before the body-high sensations kick in. This well-balanced effect makes Wedding Cake great for people who want a soothing—but not overly sedating—strain. You'll probably feel couch-locked and tired after smoking Wedding Cake, but you won't be as immobilized as using a 100 percent indica.
Celebrate Your Wedding (Or Whatever) With CBD Hemp!
You don't need to live in a state with relaxed marijuana laws to enjoy a relaxing dessert strain. Cannaflower now offers plenty of legit low-THC hemp hybrids with super sweet terpenes. Whether you're into cherry, cookies, or even chocolate, we probably have a drool-worthy CBD hybrid in our catalog. For more details on all the fun hemp flowers we offer, please take a peek at our Collections page.